Assisted Living and Memory Care - Leander, TX
1841 Crystal Falls Parkway | Leander, TX 78641 {map}
Tel: (512) 487-7049

Small Pet Friendly
Legacy at Crystal Falls in Leander, TX is a state-of-the art concierge assisted living and memory care community providing top-tier care while maintaining our residents privacy and independence, all in a luxurious resort-style environment.
Legacy at Crystal Falls is a LifeWell Senior Living community, developer of assisted living and memory care communities that keep residents engaged in a life they love- a life worth living. From an exciting activity calendar to fine dining to adaptive technology, we've created a home for our residents, in every sense of the word.
Although assisted living providers are not required to employ a full-time nurse but Legacy at Crystal Falls has chosen to do so. Residents however, will continue to see their own physicians. Legacy at Crystal Falls is also available to assist residents with transportation to their doctor's office as needed. If you do not have a physician, we have Geriatric physicians who will come to Legacy at Crystal Falls to see his or her patient in the community.
When you live at Legacy at Crystal Falls, it is no different than living at home—this is your new home, on your terms. You are free to welcome and entertain guests as you please. The only exception relates to those residents with memory impairments who live in our Memory Care Neighborhood; their access is limited for their own protection.
An Abundant Life
Our residents enjoy an abundance of amenities, from the comfort of private rooms that reflect your unique preference, to the convenience of health and happiness centered in one thriving community.
Director of Excitement
Full-Time Credentialed Wellness Director
Comprehensive Health Services
Housekeeping and Laundry Services
Full Service Beauty and Barber Salon
Movie Theatre with Bistro
Library
Landscaped Courtyards
Custom Activity Van Equipped with Wheelchair Accessibility
A Comfortable Life
Surrounded by pictures of family, friends, and mementos of their life's many adventures, our residents enjoy adding new experiences every day. We focus on providing a caring environment filled with all the comforts of home and the added peace of mind that comes with our state-of-the-art safety features.
For peace of mind and safety, we offer:
24-Hour Access to Staff
24-Hour Oversight
Motion Monitors
Safety Equipped Bathrooms
Security and Fire Safety Monitoring
Wireless Call Systems
Assisted Living and Memory Care
We are passionate about celebrating the life stories of our memory care residents. We focus on helping them stay connected to the people and the life they love. We are committed to maintaining personal interactions and relationships with memory care residents and their family members to ensure they find happiness in every stage of life.
Our memory care living spaces are specially designed to allow residents to transition easily between activities in a fully secure and safe residence. The elegance of the living area is complimented by state-of-the-art technology. Each memory care suite features motion monitors to assure resident safety while also being unobtrusive to their rest and relaxation.
A Connected Life
We believe in establishing powerful partnerships between staff and family members; this collaboration enables our residents to nourish existing emotional connections while building new ones and staying connected to a vital, thriving lifestyle. With monthly events and special senior-friendly computers, we encouraging families to share the community experience with loved ones and stay involved in their daily lives.
With a strong core commitment to care and carefully integrated technology, we've built a home that provides our residents with the support they need, the connection they want and the freedom they crave. Families visit often, but our residents enjoy being able to see their smiling faces virtually. Communication displays located within Legacy at Crystal Falls keep residents up-to-date on social events and connected with others through the resident sharing showcase.
Our community offers:
Group Social Events
Family Support
Virtual Digital Communication Systems
WiFi & Social Media
Senior Friendly Computers
State-of-the-Art Call Systems
A Commitment to Culinary Excellence
Our experienced staff offers freshly prepared culinary creations to fit our resident's preferences and special dietary needs. In addition to the scrumptious cuisine, good conversation and heartfelt laughter are ever present in our relaxed dining room.
Breakfast, Lunch, and Dinner Served Table-Side Daily
Private Dining Available for Special Occasions
Select Choice Menu Options Including Light Fare Dining
24-Hour Bistro for Gourmet Snacks
All Inclusive Pricing
We believe that simplicity should extend into the financial aspect of providing care for a family member. We offer simple, inclusive monthly pricing to help ensure families can provide care and comfort for loved ones in uncertain financial times.
Typically, the only additional expenses incurred would be for services such as cable and phone.
Utilities (not including phone and cable)
Maintenance
Three Chef Prepared Meals
Snacks and Drinks in Parlor
Weekly Housekeeping and Laundry Service
Transportation
Medication Supervision
Twice a week transportation to Physicians Appointments
Assistance with Dressing, Grooming, and Bathing
Reminders and escorts to meals and activities
Web accessed digital communication for family and loved ones
Professional Landscaping
Trash Collection
Around-the-clock Staffing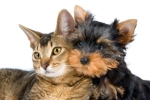 We adore pets. Small dogs and cats are welcome!
Contact Us!
Legacy at Crystal Falls offers month-to-month leases. There are no hidden costs and no fluctuating fees after you move in. Unit rates are guaranteed for up to 12 months, unless your needs change from traditional assisted living to memory care. For more information about Legacy at Crystal Falls please call (512) 487-7049 or complete our Request for Information form below.