Return to Texas Home Care Portal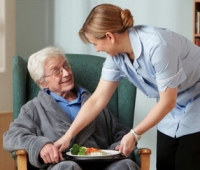 Texas Caregiver Support Groups
Creedmoor, TX Caregiver Services
- A caregiver, sometimes called an
informal caregiver
, is an unpaid individual (for example, a spouse, partner, family member, friend, or neighbor) involved in assisting others with activities of daily living and/or medical tasks.
Formal caregivers
are paid care providers providing care in one's home or in a care setting (day care, residential facility, long-term care facility). Depending upon the situation and the level of care needed, many seniors could benefit by hiring a caregiver to assist them in their own home. The role of a caregiver will often vary depending on the situation and is likely to change over time. Caregiving can be both rewarding and challenging. Caregivers should remember to take care of themselves while providing care for a loved one.
The following companies and agencies provide caregiver support services.