What is Home Health Care?
How Texas Regulate Home Health Agencies.
This page will help you to learn and understand how Texas regulates home health agencies and what home health services are (and are not) covered by Medicare and Medicaid.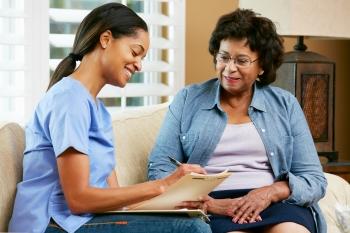 Home health care is a wide range of health care services that can be given in your home for an illness or injury. Home health care is usually less expensive, more convenient, and just as effective as care you get in a hospital or skilled nursing facility (SNF).

Click Here to Find Texas Home Health Care

The Texas Department of Aging and Disability Services (DADS) licenses, certifies and surveys home and community support services agencies (HCSSAs) for compliance with state and federal laws and regulations. Through these regulatory activities, DADS protects Texas citizens receiving home health, hospice and personal assistance services.
How to Become a Licensed HCSSA Provider
(Texas Department of Aging and Disability Services DADS)
HCSSAs must be licensed to operate in Texas. To become licensed, an agency must:
complete the presurvey computer-based training,
properly complete the license application,
include all required documents,
pay the required license fee and
be approved by DADS.
Home health care provides skilled nursing and rehabilitation help for people who are homebound on a short-term basis. If you have limited mobility due to a temporary injury or illness and need in-home medical help, you could get it through a home health agency. Here are answers to a few questions many people have about the home health agencies.
Question: Are home health services covered by insurance / Medicare?
Answer: They can be. It depends on your policy—every health care policy is different. You can also get coverage for home health agency services through Medicare, Medicaid, or Veteran's Administration insurance, although you'll have to meet certain requirements to qualify.
For Medicare, you can get 100% of the costs covered if your doctor deems skilled rehabilitation or nursing services necessary for the short term. Medicare doesn't cover home health aide services unless you're also getting skilled care such as nursing care or other physical therapy, occupational therapy, or speech-language pathology services from the home health agency. Physical therapy, occupational therapy, and speech-language pathology services.
Question: Are home health services covered by Medicaid?
Answer: If you have a long-lasting illness or disability, you might be able to get help with daily health care and living needs. This help can be at home or in an adult day health center, nursing facility, or assisted living facility.
Long-term care services include:
Help dressing, bathing, and using the bathroom.
Help preparing meals, grocery shopping, and using money.
Help with light housework.
Nursing care in your home.
Hospice services.
Care in a nursing facility or other place of care.
You can get long-term care services through the state if you have Medicaid. If you don't have Medicaid, you can apply for it by using the Application for Assistance in Texas (PDF format). The Texas Health and Human Services Commission will decide if you are able to get Medicaid.
Question: Can I receive other services?
Answer: If you need in-home nursing or rehabilitative care, you may also need help with activities of daily living such as bathing, dressing, and light housekeeping; these services may also be provided through a home health agency. Some offer long-term nursing and other services on a more permanent basis, although these services may not be covered by Medicare or most health insurance policies.
Question: Where can I find Texas home health?
Answer: Usually, you would get a referral to a local home health care agency from your hospital or doctor. You can also check online. If you're looking for yourself, be sure that the agency is certified by the Department of Health or the appropriate agency or organization in your state. Your Department of Health may provide a list of certified home health agencies in your state.
In Texas, home health agencies oversight is provided by the Texas Department of Aging and Disability Services.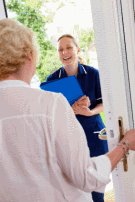 Most of the time, whether a home health agency is regulated by the state or by a separate agency, they are required to follow licensing rules for all staff—so someone without the proper medical training and certification could work as a companion, for example, but not administer medication or give injections.
Question: How do I know if I need home health?
Answer: Usually, your doctor will refer you to one if you need one—and you can't get Medicare coverage for these services without a doctor's referral. In general, however, a home health agency's services may be needed if you or a loved one prefers to stay home—or has been discharged from the hospital—but still needs more care than the family is capable of providing.
Not all home health agencies in Texas are the same, and depending on your state, conditions may vary in terms of the types of services the agency can provide and what is covered by insurance. However, if you start with a doctor or hospital referral, you are likely to be able to find an agency that can provide you with the services you need.