Adult Day Services
A viable option for caregiver respite.
The Adult Day Care Association of Texas is a statewide organization of Adult Day Care and Health Providers, licensed by the state of Texas and dedicated to keeping adults needing assistance healthy, independent, and non-institutionalized. Adult day care services are community-based group programs designed to meet the needs of functionally and/or cognitively impaired adults through an individual plan of care.
Adult day services offer structured, comprehensive programs provide a variety of health, social, and other related support services in a protective setting during any part of a day, but less than 24-hour care. Adult day care centers generally operate programs during normal business hours five days a week. Some programs offer services in the evenings and on weekends. Adult day care is also beneficial to caregivers needing some respite.
In general, there are three types of adult day services:
social (which provides meals, recreation and some health-related services)

medical and health (which provides social activities as well as more intensive health and therapeutic services) and;

specialized (which provide services only to specific care recipients such as those with diagnosed dementias or developmental disabilities.
Caregivers typically select the type of center a care recipient attends based on the care needed.

Some adult day care services are offered in the evenings and on weekends. Although each facility may differ in terms of features, these general services are offered by most adult day centers:
Social activities—interaction with other participants in planned activities appropriate for their conditions
Transportation—door-to-door service
Meals and snacks—participants are provided with meals and snacks, those with special dietary needs are offered special meals
Personal care—help with toileting, grooming, eating and other personal activities of daily living
Therapeutic activities—exercise and mental interaction for all participants.
By 1978, adult day center owners/managers saw the need to establish national standardized criteria that would allow caregivers the ability to rate and fully understand what adult day centers would provide for their loved ones. Thus, the National Adult Day Services Association formed in 1979. Since then, NADSA has made great progress in promoting the concept of adult day services as a viable community-based care option for people with disabilities within the larger constellation of long-term care services.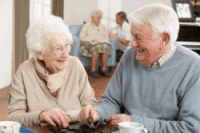 The National Adult Day Services Association (NADSA) has identified 4,601 day programs operating in the United States. This is a 35% increase from 2002, when the research by Partners in Caregiving (funded through the Robert Wood Johnson
Foundation) counted 3,407 programs.NADSA is proud to partner with MetLife Mature Market Institute (MMI)1 and the Ohio
State University College of Social Work2 researchers Dr. Holly Dabelko-Schoeny and Dr. Keith Anderson to present the 2010 national study. A random sample of the 4,601 centers identified were asked to complete a survey about their current operations, staffing, services, referral sources, and participants.
The full report is available at www.MatureMarketInstitute.com.
Key Findings from the 2010 MetLife Study

Adult Day Services Are a Growing Source of Long-Term Care
There are more than 4,600 adult day care services centers across the U.S. — a 35% increase since 2002.

More than 260,000 participants and family caregivers are serviced — an increase of over 100,000, or 63%, since 2002.
Adult Day Services Provide Comprehensive Skilled Health Care
A full range of interdisciplinary professionals meet the physical, emotional, and social needs of participants and family caregivers.

Nearly 80% of adult day services centers have a nursing professional on staff, nearly 50% have a social work professional on staff, and approximately 60% offer case management services.

Approximately 50% provide physical, occupational, or speech therapy.

There is one direct care worker for every six participants, facilitating individualized, person-centered care and enabling staff to care for increasingly complex needs.

Adult day services centers serve as an emerging provider of transitional care and short-term rehabilitation following hospital discharge.
Adult Day S ervices Are a Preferred Platform for Chronic Disease Management
There is an increase in disease-specific programs offered in centers to address chronic conditions.

More than ever, adult day services participants have higher levels of chronic conditions and disease, such as hypertension (46%), physical disability (42%), cardiovascular disease (34%), diabetes (31%), mental illness (25%), and developmental disability (20%).

There is a heightened focus on prevention and health maintenance — nearly 80% of centers offer physical activity programs to address cardiovascular disease and diabetes.
Adult Day Services Are Leaders in Community-Based Care for Individuals with Alzheimer's Disease and Other Dementias
Adult day services centers provide an interactive, safe, and secure environment.

Nearly half of all participants have some level of dementia.

Approximately 90% of centers offer cognitive stimulation programs, almost 80% provide memory training programs, and more than 75% offer educational programs.

The care provided may allow these individuals to delay nursing home placement.
Adult Day Care Services Are an Essential Source of Support for Family Caregivers
Adult day services provide a reliable source of

respite

, support, restore balance in times of crisis, and enhance overall quality of life for caregivers.

Adult day care services provide respite to family caregivers.

Over 80% of participants attend full days and 46% attend five days per week, enabling family caregivers to remain in the workforce.

Most centers provide caregiver support programs, including educational programs (70%), caregiver support groups (58%), and individual counseling (40%).
Source: www.nadsa.org