Affordable Senior Living for Adults 55+

Learn About Texas Senior Housing Tax Credit Program
Imagine waking up in your beautifully appointed apartment home and taking a leisure stroll around the impeccably landscaped grounds and natural pond. Or, enjoying a refreshing dip in a pristine swimming pool after an work-out in the fitness studio. It's now possible with monthly rentals often starting at just $650.00 / mo. (Age and Income Guidelines Apply).
Senior apartments that advertise the word 'affordable' are generally tax credit apartment communities making their senior housing and apartment communities quite affordable.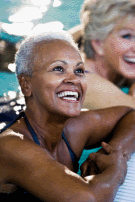 The Texas senior housing tax credit program is one of the primary means of directing private capital toward the creation of affordable rental housing. The tax credits provide investors of affordable rental housing with a benefit that is used to offset a portion of their federal tax liability in exchange for the production of affordable rental housing. The value associated with the tax credits allows residences in HTC developments to be leased to qualified families at below market rate rents.
To qualify for senior living tax credits, the proposed development must involve new construction or substantial rehabilitation of existing residential units (at least $12,000/unit in direct hard costs). The amount of tax credits that may be applied for depends on: the amount and type of additional funding sources, the total amount of qualified development costs to be incurred, the percentage of rent restricted units set aside in the development for eligible tenants, and location in communities designated as Difficult Development Areas and Qualified Census Tracts.
Each qualified tax credit development must include a minimum percentage of rent restricted units to be set aside for eligible tenants. Pursuant to the Code, a qualified housing development means any development approved by the Department for residential rental occupancy if the development meets either of the following requirements:
Twenty percent (20%) or more of the residential units in such development are both rent restricted and occupied by individuals whose income is fifty percent (50%) or less AMFI; or
Forty percent (40%) or more of the residential units in such development are both rent restricted and occupied by individuals whose income is sixty percent (60%) or less of AMFI.
Tax credits may only be claimed on the units that have been set-aside for participation under this program. It is possible, but not required, for development owners to set aside one-hundred percent (100%) of any development for consideration under the tax credit program and in doing so claim the maximum amount of tax credits eligible for the development.
Source: www.tdhca.state.tx.us