Concierge Assisted Living and Memory Care - Katy, TX
1520 Katy Gap Road | Katy, TX 77494 {map}
Tel: (281) 394-0628
Welcome to The Legacy at Falcon Point, a luxury senior community providing personalized concierge senior living, assisted living and memory care. Located in Katy, TX, we are invested in the well-being of each one of our residents and the Legacy community as a whole. When it comes to meeting the needs of seniors, we offer more than just senior living.
The Legacy at Falcon Point is a LifeWell Senior Living Community, developer of assisted living and memory care communities that keep residents engaged in a life they love- a life worth living.
Lifestyle Options
Concierge living means the freedom to choose from several lifestyle options. While floor plans differ depending on which suite you select, all private rooms share the same amenities, so no resident goes without certain luxuries. We spared no expense in creating an environment of comfort and convenience.
Each floor plan includes:
Senior-friendly kitchenettes with granite countertops and refrigerators
Large, ADA-compliant bathroom with guiding nightlights and warming heat lamps
Industry leading motion sensor technology to give peace of mind without being intrusive
State-of-the-art nurse call system
Keyless entry for easy access and security
Plush carpeting
Wood flooring
Walk-in closets
Oversized showers
Upgraded finishes
Ample storage space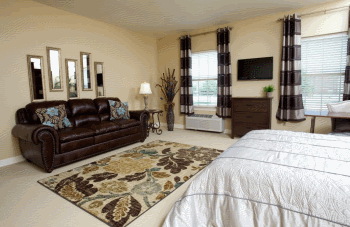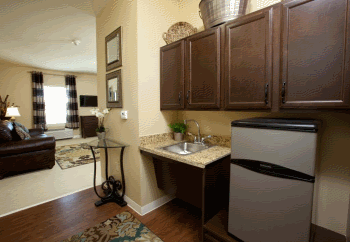 Part of providing the highest quality of senior care means making the financial requirement for such care simple and easy to understand.
Our Monthly, ALL-INCLUSIVE fee include:
Personalized meals
On-site licensed nurse
Weekly housekeeping and maintenance
Transportation
Utilities (with phone and cable options)
Medication supervision
Personal grooming assistance
And much more!
For residents of The Legacy at Falcon Point, concierge living means an independent lifestyle with an abundance of amenities, including the comfort of private rooms, comprehensive health services, and weekly housekeeping and maintenance.
Our assisted living and memory care services are personalized to meet an individual's needs and include a balance of daily physical activity, mental engagement, and emotional enrichment. Each resident has a "voice" in our community.
Other Health and Enrichment Amenities Include:
Lifestyle Director to ensure residents live connected, active, and purposeful lives
Full-time, fully credentialed Wellness Director for personalized care when you need it
Customer Service Manager to assist residents with a variety of special tasks
Anytime dining, for when you're hungry for something off hours, off the menu
Creative and fun recreational activities for physical and mental health
Movie theatre with entertainment on demand
Full-service barber and beauty salon so our residents can look and feel their best
Secure and safe outdoor activity grounds
Custom activity van equipped with wheelchair accessibility
At The Legacy at Falcon Point, we believe in more than just simply living. We believe in living life well. Our staff is dedicated to meeting the needs of residents and their families by providing innovative and personalized services, technologies, and amenities. At our community, residents enjoy an enhanced and meaningful life.
As a recognized leader in the use of cutting-edge technology, we embrace a culture of innovation, and constantly seek to improving care for our residents and their families. We also recognize the importance of strong relationships, and ensure our residents stay connected to their families, friends, physicians, and community at large. We have a passion for serving seniors and their families and believe our mission is bigger than ourselves.
Staying Connected
The Legacy at Falcon Point is not a "rest home". Research has shown that the number one contributor to resident happiness is their connection to other residents and the surrounding community. Through state-of-the-art technology, innovative programming, a focus on safety, and community involvement, our residents enjoy a connected, active, and purposeful life.
Experienced Care
At The Legacy at Falcon Point, our personalized senior care comes from experience and utilizes industry-leading programs and state-of-the-art technology to help residents stay connected to their healthcare providers. Our trained staff assists residents with all daily living activities, including dressing, bathing, and managing medications in a comfortable home environment.
OUR EXPERIENCED CARE FEATURES INCLUDE:
Industry-leading point-of-care system to ensure care is being delivered promptly
On-site certified nurse aides and medical technicians
Licensed nurse on-site
24-hour alert and responsive care staff
Wireless resident call system
Movie theatre with entertainment on demand
Outpatient therapy services
21% higher resident-to-staff ratio than industry average
A Commitment to Culinary Excellence
Living a Life Well should include optimal nutrition and have the taste of home. At The Legacy at Falcon Point, our residents enjoy personalized menus and concierge cooking provided by on-site, expert chefs.
With our food budget per resident being 42% higher than the national average, each handpicked member of our culinary staff is committed to preparing food that is both healthy, whimsical, and seasoned with love.
If you have special dietary needs, we can accommodate you. If you want fried chicken, we can make you fried chicken! By serving both the wants and needs of our residents, we make our dining experience exciting, memorable, and tasty.
Download a sneak at one of our delicious and nutritious menus.
Contact Us Today!
For more information about The Legacy at Falcon Point (such as pricing, floor plans, our brochure) or to arrange a tour, please call (281) 394-0628 or complete our Request for Information form below. At The Legacy at Falcon Point WE IMPROVE LIVES.