Cedar Bluff Assisted Living in Mansfield, Texas is an assisted living and memory care community offering seniors a vibrant lifestyle that encourages health and independence through our industry-leading educational, health and wellness programs.
Exceptional Assisted Living and Memory Care
Every day at Cedar Bluff Assisted Living in Mansfield, TX promises to be like a reunion of good friends and family. It's that approach to life that will make living in our community so special. Of course, we'll also feature the lifestyle our Residents will look forward to experiencing each day:
Outstanding Resident Services
An Emphasis on Peace of Mind and Worry-Free Living
A Calendar of Daily Events and Activities
Elegant Dining
Planned Excursions
Exercise Classes
Unrivaled Amenities
And more!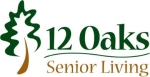 At 12 Oaks Senior Living, we absolutely LOVE seniors. Walk into any of our communities and you'll recognize what separates us from others. Our style, our emphasis, our way of doing business is distinct from other communities.
The difference is our philosophy. Quite simply, we want our residents to ENJOY LIFE WITH US! It's that perspective that defines our purpose and helps us see everything we do through the lens of making our communities fun, active and exciting places to LIVE! 12 Oaks Senior Living boasts some of the industry's finest communities in Independent Living, Assisted Living, and Memory Care… BUT OUR SPECIALTY IS LIFE!
Our staff looks forward to serving your needs and to introducing you to all that Cedar Bluff Assisted Living has to offer its residents. For more information about Cedar Bluff Assisted Living and Memory Care, please call (817) 225-2468, or complete our Request for Information Form below.