Find Additional Senior Services
Company Profile...
AseraCare Hospice - Austin
14205 Burnet Rd. | Austin, TX 78728
Tel: (512) 218-9890
Medicare Approved & CHAPS Accredited.
Community Health Accreditation Program, Inc.
About AseraCare Hospice
AseraCare Hospice, serving the Austin area, offers a full range of hospice and palliative care services for terminally ill patients, including medical care, nursing care, social worker counseling, volunteer services, spiritual support, physical, occupational and speech therapy, personal care assistance, nutrition counseling and bereavement counseling.
AseraCare Hospice serves the Texas counties of Comal, Hays, Travis, Williamson, Milam, Blanco, Llano, Burnet, Lampasas and Bell.
Our primary goal is to make each patient comfortable, enabling them to continue an alert, pain-free life and to assure a patient's last days may be spent with dignity, supported by their loved ones and our caring staff.
AseraCare Hospice helps our patients achieve greater independence by providing the care services they need within the comfort of their own homes. From nursing assistance to rehabilitation therapy, AseraCare Home Health offers a full range of home health care services.
Our skilled and experienced staff provides care to patients following joint replacement, surgery, injury, cardiac episodes and major illnesses.
AseraCare Hospice Programs
Our hospice program consists of both palliative and supportive services that provide physical, psychological, social and spiritual care for terminally ill persons and their families. It is a comprehensive, medically directed, team-oriented program that accentuates pain control and symptom management for patients who no longer respond to routine aggressive medical care.
Each patient has individual needs, and our team looks at the whole person, not just the physical manifestations of the disease process. It is a comprehensive, medically directed, team-oriented program that accentuates pain control and symptom management for patients who no longer respond to routine aggressive medical care. The focus of hospice care is palliative rather than curative in nature.
If you are confined to the home but need ongoing medical care, our home health staff can design a comprehensive healthcare program to meet your needs. And doctor-prescribed hospice care is a compassionate alternative for terminally ill patients and their families.
When to Contact AseraCare Hospice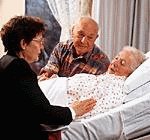 Hospice care begins when a personal terminal illness no longer responds to routine, aggressive medical treatment.
Care can take place in a private home, or it may occur in an assisted living center, a nursing home, a hospital or other long-term care facility.Our common goal is to reduce the stress and pressure on you and your family . . . allowing you to make the most of the time you spend together.
Your doctor directs the medical care.
Nursing staff helps manage physical symptoms, and provide the doctor with important clinical
information.
Social workers counsel families and patients to help them understand the emotions they will
experience during this difficult time.
Volunteers give one-to-one attention to patients, sharing the valuable gift of time.
Spiritual coordinators support the patient's spiritual beliefs, and assist in meeting spiritual
end-of-life needs.
Physical, occupational and speech therapists provide rehabilitative support.
Home health aides and homemaker services address the patients€™s personal needs.
Dietary staff provides nutrition counseling to the patient and family.
Bereavement staff counsels families for 13 months as they cope with grief and loss after a
loved one's death.
Paying for Hospice
Hospice care is a benefit under Medicare, Medicaid (in some states) and many private insurance companies. As such, the patient or family will see cost savings on certain medications and equipment related to the terminal illness. Regardless of the family's ability to pay for hospice, no patient is ever denied services because of an inability to pay for them.
This is also a common misconception about hospice care. It is not necessary for Hospice patients to have signed a DNR/DNI order prior to admission. The hospice team will continue to educate the patient and/or provide them resources regarding advance directives and end-of-life decisions.
AseraCare Austin Accreditations
Community Health Accreditation Program, Inc. (CHAP) The leader in improving the quality of community-based healthcare services in the U.S. CHAP provides healthcare consultation services to facilities, as well as a broad network of professional staff resources. AseraCare Hospice is CHAP accredited as a whole and is working towards deemed status for all individual agency location
If you think someone you know could benefit from hospice, or if you would like more information about our services, please contact us at (512) 218-9890 or complete our Request for Information form below.