Prestonwood Court Plano
Assisted Living - Alzheimer's and Memory Care - Plano, TX


7001 W. Plano Pkwy. {map}
Plano, TX 75093
Phone: (469) 521-7638
TX ID# 102673
A 12 Oaks Senior Living Community
Pet Friendly
At Prestonwood Court in Plano, TX we specialize in assisted living, Alzheimer's and memory care. Combining the warmth of home with the amenities of a fine hotel, life at Prestonwood Court offers a world of possibilities.
Prestonwood Court Plano was designed to provide the warm, comfortable feeling of home in a setting that respects autonomy and privacy. All assisted living and memory care services are delivered by trained professional staff, from our housekeepers and dining servers to our licensed Resident Care staff and caregivers.
Assisted Living Services
Prestonwood Court is an assisted living community in Plano, TX designed to provide a full spectrum of services and senior care for our residents. Assisted living gives residents the best of both worlds offering independence with personal care and support services available if they need them. Residents at our assisted living community have a variety of choices based on their individual need.
Whether our residents need help with the activities of daily living, help getting to appointments, or medication management, the staff at Prestonwood Court focus on meeting all of these needs. We serve each resident with the dignity and respect they deserve.
Service Plans Include:
Service Package 1
Escort service
Extensive verbal cueing
Reminders for persons with memory loss
Service Package 2
Includes Basic Care Level Service
Escort Service
Assistance with bathing/dressing OR Assistance with incontinence care
Service Package 3
Includes Moderate Assist Care Level Service
Escort Service

Assistance with bathing/dressing

AND

Assistance with incontinence care
Alzheimer's and Memory Care Services
Prestonwood Court offers comprehensive and caring Alzheimer's and memory care in Plano, TX. The mission of our supportive community is to serve the special needs of individuals with Alzheimer's disease, dementia and other forms of memory loss.
Many of us will deal with dementia or another form of memory impairment as we age. In the early stages, a person afflicted with dementia may function normally and be able to live independently. As the disorder progresses the ability to perform daily tasks will dwindle. For additional information on our Alzheimer's and dementia care please contact us at 469-521-7638.
Companionship Services
Our Companionship program provides one on one services when a resident needs more support. This individualized program may be needed during move in, during an illness or for reassurance due to memory loss. Please call us at 469-521-7638 for more information.
Restaurant Style Dining
Residents savor delicious meals in warm, inviting dining areas. A delicious variety of meals are served every day at Prestonwood Court. Our staff creates balanced, nutritious offerings designed to exceed expectations. We even make concerted efforts to accommodate your special diet request.
Prestonwood Court takes great pride in offering our residents healthy home-style meals that do more than nourish, offering an "Adventure in Dining", nutritiously balanced meals, and themed dinner choices with our ever-attentive dining service. Bon Appetít!
Sample Menu:
Breakfast:

Hot or Cold Cereal
Eggs cooked to order
Bacon
Hash Browns
Toast
Choice of Beverage

Lunch:

Garden Salad
Baked Salmon
Roast Pork Loin
Asparagus
Twice Baked Potatoes
Dinner Roll
Chocolate Mousse
Choice of Beverage

Dinner:

Grilled Reuben
Two Fruits
Banana Split Dessert
Choice of Beverage
Additional Choices Include: Alternate Meals: Chef Salad, Grilled Chicken Filet Salad, Cottage Cheese and Fruit Plate, Soup, Grilled Cheese, Ham Sandwich or Hamburger
Diet Desserts/Diabetic Desserts
Milk, Coffee and Tea are served at all meals.
Exceptional Senior Living That Feels Like Home
You'll find our apartments are designed to feel just like home offering warm and inviting layouts adequately equipped with many safety features.
High ceilings with crown molding
Ceiling fans
Kitchenettes
Cherry oak stained cabinets
Full size refrigerators
Spacious private bathrooms w/ full vanities
Emergency call system
Large windows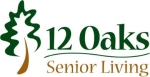 At 12 Oaks Senior Living, we absolutely LOVE seniors. Walk into any of our communities and you'll recognize what separates us from others. Our style, our emphasis, our way of doing business is distinct from other communities.
The difference is our philosophy. Quite simply, we want our residents to ENJOY LIFE WITH US! It's that perspective that defines our purpose and helps us see everything we do through the lens of making our communities fun, active and exciting places to LIVE! 12 Oaks Senior Living boasts some of the industry's finest communities in Independent Living, Assisted Living, and Memory Care… BUT OUR SPECIALTY IS LIFE!
We Look Forward to Serving You! Come by or plan to visit us soon. We'd love to get acquainted. Call ahead and we'll tailor our preparations to make your visit a very special occasion. For more information about Prestonwood Court, or to arrange a tour, please call (469) 521-7638 or complete our Request for Information Form below.