Our parents are now facing challenges that have never before been encountered. It is up to our generation to provide the best solution that will keep them safe, secure and happy with the best quality of life available. All of this can be achieved using today's aging in place technology. A 21st Century Proactive Solution using aging in place senior technology.
This is the reason Project Independence 'Aging in Place Technology' was conceived because technology is paving the way for prolonged independence and the ability to remain home by choice.
As we grow older we will all rely on family members and others for some of our daily needs. Some of these needs can simply be frequent communication, checking in and day-to-day companionship. But in today's world, we can't always be there to 'personally check in' and provide the companionship they desire. Statistics show that most elderly are able to take care of themselves and perform the basic needs of everyday life. They also desire to stay in their home.
What if you could keep your parents or senior loved ones in their own home to 'age in place' where they want to be longer with a better quality of life, while at the same time, see first hand how they are doing? Let us show you how to be proactive in planning for your family's security and well being before problems can arise using today's technology.
By creating a 'virtual coffee table' Project Independence Aging in Place Technology makes it possible to check in with your parents, see how their doing, even having a cup of coffee with them. In addition to you checking in on them, they will also be able to communicate with friends on a daily basis making arrangements for carpooling,bridge games, outing, and more...all through the virtual coffee table system!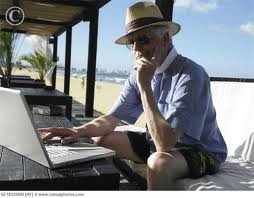 Imagine every morning she/he wakes up and turns on (Skype or Google +) and has a coffee with her/his 3 closest friends...or you while you're away on vacation?
Or, its Saturday morning and you need to catch up with Mom/Dad over the past week, pour yourself a coffee, and video conference live with your parent(s). This is a perfect way for your elder parent(s) to have companionship if unable (or desire not to) leave the house.
This is a perfect way for your elder parent(s) to have companionship if unable (or desire not to) leave the house.
Project Independence Aging in Place Techology Services Also Include the Following:
Background Check of Care-giver Criminal and Credit (if requested)
Back Ground Check of Professional References (if possible visit last References)
Cameras strategically placed in home (install cameras and software for family)
Camera recordings retained for 3 days from real time.
Be Present upon initial meeting of Care-giver and family if requested to explain Elder's home prepared.
Provide and install Medical Alert Device (LifeFone) into Elder's home.
Present Cost of Retirement Homes (provided)
Provide a Virtual "Coffee Table" for Client with Secure Cloud Based communication software
Explain in detail the Pro-Active Plan for a better and safer life for the Elder
Explain the cost savings of keeping an Elder in their own home where they feel more comfortable and secure.
Provide Memorandum of Understanding (MOU) between Family, Elder and Caregiver.
Domestic Human Technical Support 8 – 5 Monday thru Friday (except holidays) for 1st 30 days.
Provide waivers and disclaimers for the Family in regards to Project Independence.
30 minute relaxed orientation and training of use of PC for the Elder.
Provide documentation of Best Practices for proper house preparation for long term residence.
Provide and install Desktop or Laptop, UPS, Monitors and wireless cameras and all essentials to be able to monitor 24/7 Elder for the Family.
No Charge Tech Support for desktops or laptops and cameras at client site (for 30 days) $150.00 per visit after 30 days. OEM to cover Hardware for balance of warranty
Provide LoJack (GPS vehicle tracking) for 1 vehicle (if requested – highly suggested if Caregivers uses Elder vehicle for errands)
Best Practices Documentation to Family on how to video Record (Inventory) personal items and effects of Elder.
Provide upgraded or new installation of Internet Access by local or available Provider (Standard monthly charges and technical support provided by Internet Provider)
Provide documentation of proper installation of camera access for supported Iphones and Smart Phones and other technology (Phone support provided by applicable Provider Technical Support)
Let us show you how to be proactive in planning for your family's security and well being before problems can arise. For more information about Project Independence Aging in Place Technology, call (512) 800-7140 or complete our Request for Information form below.