Wood Glen Court Assisted Living - Spring, TX
A 12 Oaks Senior Living Community
5000 Cypresswood Dr. {map}
Spring, TX 77379 | Phone: ( 281) 573-0370
Pet Friendly
Wood Glen Court, located in Spring TX, offers exceptional assisted living for your loved one. Combining the warmth of home with wonderful amenities, Wood Glen Court is looking forward to serving your family. Our Assisted Living community will offer seniors a vibrant lifestyle that encourages health and independence through our industry-leading educational, health and wellness programs.
Pets are also a welcomed part of the family at Wood Glen Court. Residents are permitted to have small pets with the approval of the Executive Director.
Every day at Wood Glen Court promises to be like a reunion of good friends and family. It's that approach to life that will make living in our community so special. Of course, we'll also feature the lifestyle our Residents will look forward to experiencing each day:
Outstanding Resident Services
An Emphasis on Peace of Mind and Worry-Free Living
A Calendar of Daily Events and Activities
Elegant Dining
Planned Excursions
Exercise Classes
Unrivaled Amenities
And more!
Assisted Living Services
Wood Glen Court is an assisted living community in Spring, TX designed to provide a full spectrum of services and senior care for our residents. Assisted living gives residents the best of both worlds offering independence with personal care and support services available if they need them. Residents at our assisted living community have a variety of choices based on their individual need.
Whether our residents need help with the activities of daily living, help getting to appointments, or medication management, the staff at Wood Glen Court focus on meeting all of these needs. We serve each resident with the dignity and respect they deserve.
Levels of care and Service Plans Include:
Service Package 1-Essential $400
Escort service
Extensive verbal cueing
Reminders for persons with memory loss
Service Package 2-Enriched $600
Escort Service
Assistance with bathing/dressing OR
Assistance with incontinence care
Service Package 3-Enhanced $1250
Escort Service
Assistance with bathing/dressing AND
Assistance with incontinence care
Activities and Events
Our emphasis of promoting vibrant individual experiences within a spirit of community is expressed in many wonderful activities and social events. At Wood Glen Court, there's so much for every resident to enjoy:
Variety of Entertainers
Special Music Guests
Computer and Internet Access
Movie Night
Card Games
Board Games
Okay, Games Galore!
Arts and Crafts
Education Seminars
Discussion Groups
Volunteer Opportunities
Planned Excursions
Outdoor Barbecues
Religious Services
Special Family Events
Life at Wood Glen Court is like a daily reunion of family and good friends!
Wood Glen Court Dining
Let the aroma of roasted beef tenderloin, our delicious chicken supreme or a freshly baked cherry pie whet your appetite for what is undoubtedly a favorite, if not the favorite feature of our community for residents.
Wood Glen Court takes great pride in offering our residents healthy home-style meals that do more than nourish, offering an "Adventure in Dining" through nutritiously balanced ethnic, mystery and theme dinner menu choices with our ever-attentive dining service. Bon Appetít!
Sample Menu:
Breakfast
Your choice of Cereal, Oatmeal, Eggs any Style, French Toast, Pancakes, Waffles, Bacon, Sausage, Muffin of the Day.
Lunch

Soup of the Day
Please ask your server for today's special
Smoked Turkey Wrap
Diced bacon, chopped avocado, diced tomato, diced red onions, fresh lettuce, sliced turkey wrapped in a tortilla
Cheese Blintzes
Cottage Cheese filled crepe, topped with blueberry sauce
Tuna MeltFresh made tuna salad with Swiss cheese, melted and served on your choice of bread
Island Fresh Fruit Platter
Seasonal fruit served with Low Fat Cottage Cheese
French Dip Sandwich
Tender slices of Roast Beef, Medium rare served on French Baguette, with au jus
Eggs Deluxe
Eggs scrambles with nova and onions served with a whole toasted bagel and sliced tomato
Dinner
All dinner entrees are served with a choice of vegetable or Twice Baked Potatoes
Breaded Baked Fish
White fish lightly breaded in seasoned bread crumbs baked to perfection, served with seasonal vegetable
Roast Turkey
Turkey, slowly roasted to perfection served with oven roasted potatoes and gravy
Ham Fettuccine
Lightly buttered noodles topped with a creamy alfredo sauce
Braised Beef Tips
Braised beef tips seasoned with fresh herbs served with parslied noodles
Desert of the Day
Please ask your server for the dessert of the day
Beverages
Coffee, Decaffeinated coffee or tea, Iced tea, Iced coffee, Fruit Juices, Cola, Diet Cola, Ginger Ale, Sparking Water.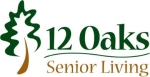 At 12 Oaks Senior Living, we absolutely LOVE seniors. Walk into any of our communities and you'll recognize what separates us from others. Our style, our emphasis, our way of doing business is distinct from other communities.
The difference is our philosophy. Quite simply, we want our residents to ENJOY LIFE WITH US! It's that perspective that defines our purpose and helps us see everything we do through the lens of making our communities fun, active and exciting places to LIVE! 12 Oaks Senior Living boasts some of the industry's finest communities in Independent Living, Assisted Living, and Memory Care… BUT OUR SPECIALTY IS LIFE!
Our staff looks forward to serving your needs and to introducing you to all that Wood Glen Court has to offer its residents. For more information about Prestonwood Court, or to arrange a tour, please call (281) 573-0370 or complete our Request for Information Form below.
Exceptional Assisted Living in an Intimate Residential Setting -