Texas Affordable Senior Housing
Finding affordable housing can be difficult for people of all ages, but it can be a particular challenge for Texas seniors. Luckily, there are resources available that could help you or a loved one find affordable senior housing in Texas.
Here are a few resources that could be of help.
Texas Senior Housing Tax Credit Program
Imagine waking up in your beautifully appointed apartment home and taking a leisure stroll around the impeccably landscaped grounds and natural pond. Or, enjoying a refreshing dip in a pristine swimming pool after an work-out in the fitness studio. It's now possible with monthly rentals often starting at just $650.00 / mo. (Age and Income Guidelines Apply).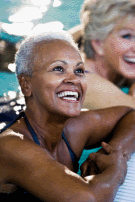 Senior apartments that advertise the word 'affordable' are generally tax credit apartment communities making their senior housing and apartment communities quite affordable.
Find Affordable Texas Apartment Communities
The Texas senior housing tax credit program is one of the primary means of directing private capital toward the creation of affordable rental housing.
The tax credits provide investors of affordable rental housing with a benefit that is used to offset a portion of their federal tax liability in exchange for the production of affordable rental housing. The value associated with the tax credits allows residences in HTC developments to be leased to qualified families at below market rate rents.
Texas State Affordable Housing Corporation (TSAHC) helps create affordable housing in Texas by providing housing developers various financing and land development programs they can use to build or rehabilitate single family and multifamily housing. These programs include tax-exempt bonds for rental housing, lines of credit for construction or rehabilitation of single family homes and land banking and land trusts services.
Affordable housing can be difficult to find—but there are a few options. Talk to a housing counselor in your area, and check out the online resources available, and you'll hopefully be able to find housing that doesn't break the bank.
U.S. Department of Housing and Urban Development
The US Department of Housing and Urban Development has a program to provide rental housing for low-income families, people with disabilities, and the elderly. The department provides aid to housing agencies (or HA's) in local communities that manage housing—which could be single-family homes, high-rise apartments, or anything in between.

You have to qualify to be eligible for HUD housing based on your annual gross income, and the housing is usually limited to the elderly, families, and those with disabilities. You also have to pass a reference check. You can apply by contacting the housing agency (HA) in your area.
The Housing Choice Voucher Program provides government assistance to families, seniors, and the disabled to pay for housing expenses. If you qualify, you find your own housing with a landlord who is willing to rent under the program, and the government pays some or all of your rent.
This website provides extensive information to people looking for low-income housing in Texas. It's a nonprofit organization dedicated to affordable housing, providing information on tenants' rights, reports, and resources. It also provides the Texas Housing Counselor, an interactive tool that can help you find affordable housing in your area.
Section 202 housing is designed especially for the elderly. The housing that falls under this category usually includes services such as housekeeping help, prepared meals, transportation, or some health care—similar to an assisted living facility. Some facilities take Section 8 vouchers, allowing qualifying tenants to pay only 30% of their income in rent. Others have established rent rates that are below market prices. To qualify for Section 202 housing, you have to apply at the individual apartment building or facility. You may be asked to bring proof of income or social security, as well as other documents—the property manager should be able to tell you what to bring in advance.
These are housing developments or apartment buildings run by cooperatives or corporations. The government provides subsidies to the organizations running the facilities to rent out some units to low-income tenants. The rent cannot be higher than market rents, but must be either 30% of the tenant's adjusted income, or meet the lowest rent that would cover the property's basic expenses—whichever is higher. You may also be able to get a utility allowance with Section 236 housing.
This program operates in rural areas and smaller cities and towns. Some are open to everyone with a low income, although others are reserved only for elderly tenants. They may also be referred to as Section 515 housing. These housing facilities can be run by nonprofits, local municipalities, cooperatives, or private companies.