The average cost of Nursing Homes in Texas is $140. Nursing Homes costs range from $90 to $260 depending on location and other factors. Medicaid will pay for a nursing home only when it is "medically necessary." In Texas, for a nursing home to be considered medically necessary, you must have a medical condition that is so serious that you need the level of nursing care that is only available in an institution.
Your doctor must document your medical condition and must prescribe skilled nursing services to be provided to you on a regular basis in an institutional setting. Nursing care includes things like giving shots, inserting a feeding tube or catheter, treating bed sores, and changing wound dressings.

For Medicaid to keep paying for your nursing home stay, a doctor has to certify at least every six months that you meet the standard for medical necessity. If you only need custodial care (someone to watch over you), for instance, because you fall often or because you have dementia and tend to wander, then Medicaid will find that a nursing home stay is not medically necessary because you do not need a nurse.
Medicaid is a payer of last resort. This means that If you qualify for Medicaid but have other health-care coverage, long-term care coverage, or another party is liable for your medical expenses, those sources will have to pay first before Medicaid pays your long-term care claims.
Star Plus Medicaid Waiver Program
What was formerly known as the Community Based Alternatives program is now referred to in Texas as the STAR PLUS Managed Care Medicaid waiver.The program pays for care provided in the home or assisted living as an alternative to nursing homes for those who remain in the community.
Though different in name, the STAR PLUS waiver has the same financial and functional restrictions as its predecessor, such as requiring applicants to be age 65 or older, or disabled, meet "medical necessity" and meet the income and asset levels for Texas Long-Term Care Medicaid.
Medical necessity is a prerequisite for participation in the Long-Term Care Medicaid program, and the individual applying for benefits must demonstrate a medical condition that's of such seriousness that his or her needs exceed the routine care that may be provided by an untrained person, and therefore requires licensed nurses' supervision, assessment, planning and intervention available only in an institution.
Additionally, the individual must require medical or nursing services that:
1. are ordered by a physician
2. are dependent upon the individual's documented medical conditions
3. require the skills of a registered or licensed vocational nurse
4. are provided either directly by or under the supervision of a licensed nurse in an institution, and
5. are required on a regular basis.
Texas Medicaid Income Limits for 2015 - 2016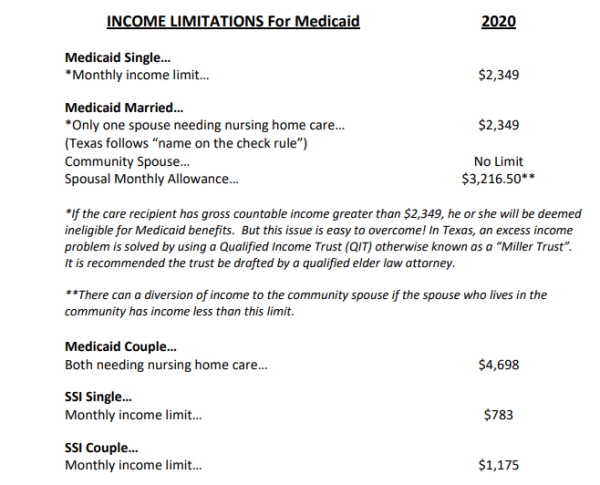 Traditional health care and long-term care support are combined under STAR&PLUS, and the program provides services including (though not limited to) adult day care, delivered meals, home care, medical care, assistance with ADLs and respite care. With these services in place, the applicant's caregiver is able to continue working in the community or simply enjoy some personal time.
Although this program provides valuable assistance so that the Medicaid beneficiary is able to remain in the community as long as possible, the biggest challenge in the past is that Texas had a lengthy waiting list, the length of which varied depending on the waiver program budget. Some people have been on the list for many years.
Recently, the waiting list of STAR&PLUS waiver has shortened. Names are moving up to the top of the program's interest list at a more rapid rate. When your name comes to the top of the interest list, you must meet the eligibility criteria very shortly thereafter.
If you do not meet the eligibility criteria (income and resource limitations) when you are called, then you will lose your opportunity to receive care under the program. It would be beneficial to consult with an elder law attorney to ensure that you qualify in advance of starting the process.
An Texas elder law attorney can advise you about what other assistance is available while waiting for Medicaid waiver services. Certified Elder Law Attorneys (CELAs) have years of accumulated knowledge covering a broad range of legal issues affecting seniors and persons with disabilities.
Related Articles:
Disclaimer: Elder Options of Texas is not rendering any legal or professional advice. If legal advice is necessary the reader should consult a competent attorney.
Elder Options of Texas
Copyright 2001-2017
All Rights Reserved
DISCLAIMER: Links to other websites or references to products, services or publications do not imply the endorsement or approval of such websites, products, services or publications by Elder Options of Texas. The determination of the need for senior care services and the choice of a facility is an extremely important decision. Please make your own independent investigation.