1 Golden Life Home Care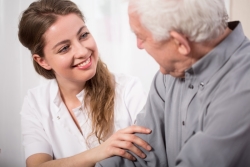 11601 Shadow Creek Pkwy. #111-142
Pearland, TX 77584
Tel: (832) 376-7766

Free In-Home Assessment

1 Golden Life Home Care provides non-medical home care that focuses on assistance with activities of daily living. We understand the struggles that our clients go through just to carry out these activities due to their health conditions or disabilities. Our services are rendered in order to make these individuals become less worried about their daily activities. The following items are included in our services:
Activities of Daily Living (ADL's)
Bathing
Bed
Eating
Toileting
Dressing
Mobility
Personal Hygiene
Positioning and Transferring
Instrumental Activities of Daily Living (IADLs)
Caregiving Services
As we grow older, many of us want to enjoy our retirement years at home. However, it is understandable that we may need help with day to day task. Although we have family members who want to help, it canít be denied that we need support from professional caregivers especially when we have health issues or mobility difficulties. This is where our services come in. We help the elderly live quality lives at home by providing Personal Care, Homemaking and Companionship.
Personal Care:
Personal Hygiene Assistance
Assistance with Bathing and Showering
Toileting and Incontinence Care
Mobility Assistance- including fall prevention
Assist with getting dressed
Feeding and meal preparation to help ensure nutrition needs are met
Positioning and Transferring as needed
Home Maker Services:
Reminders to take Medication
Grocery Shopping and Errands
Light Housekeeping
Transport to Appointments
Organize mail and pay bills
Laundry
Linen change
Water plants
Small cat/dog feeding
Companionship:
Conversation and discussion of events to help sharpen memory
Crafting and playing games for mental stimulation
Reminiscing on memorable past experiences
Outings to promote socialization
Scrapbooking as a creative outlet
Outdoor activities- including gardening, shopping and site seeing
Walking to promote an active lifestyle
Safety and Quality is Our #1 Priority
While you may define safety in different ways, it all boils down to having peace of mind. You need to feel reassured that your loved one is free from the risk of falling, getting injured or forgetting to take medications, among others. Our approach to care involves giving peace of mind to family members and our clients.
Our team of health care professionals and caregivers are thoroughly screened based on safety and quality standards.
Pre-employment background check

Nurse Aide Registry Check

Employee Misconduct Registry Check

Drug Screening
Experience and On-Going Training
Face-to-Face Interview
TB Skin Testing
Valid Drivers License and Vehicle Insurance
Verify Driving Record
Proof of Eligilibity to Work in the USA

Payment Options
Paying for home care is challenging for families because most elders and adult children pay out-of-pocket. Itís a harsh reality for working families, and can sometimes become overwhelming when determining methods of payments and/or services available for individuals seeking care. In-Home Care has become increasingly popular in the fact that it is the only way to keep an older loved one out of a nursing home.
As a Home Care Agency, Itís our obligation to provide services that will allow our elderly to gracefully age right in their own homes. Here are a list of payment options that are available:
Private Out-of-Pocket
Workers Compensation
Long-Term Care Insurance
VA Benefits - Including "Aid and Attendance"
And more...
For VA families, our affiliate partner has extensive experience in applying, processing and receiving benefits for eligible clients.
Contact Us Today!
1 Golden Life Home Care is always ready to answer your queries. For more information, or to schedule your FREE in home assessement, please call (832) 376-7766 or complete the Request for Information form below.
Comprehensive Care by Compassionate Staff...that's 1 Golden Life Home Care.
Home & Community Support Services
Lic#018039