Adaptive Mobility of the SW, LLC
Texas Home Modifications and
Renovations for Seniors
Serving Dallas / Fort Worth Metro-plex
OUR SERVICES ARE NOT FREE
"Private Pay ONLY"
We DO NOT offer free services or financial assistance.
AFFORDABLE * PROFFESSIONAL * BONDED * INSURED
"Together We Achieve the Extraordinary"
Jim Chavez, Owner
Tel: (817) 235-0670

Planning a remodeling project? Hire a professional, experienced expert at an affordable price! Let us provide you with an affordable quote on your desired project!
More important than having a vision for your project is hiring an expert home re modeler like Adaptive Mobility of the SW. They not only can get the job done well, but can work to customize your home to your needs. Adaptive Mobility of the SW provides Americans with Disabilities Act (ADA) Home Renovations and Modifications for seniors throughout the Dallas and Fort Worth Metroplex and other Texas locations.
What We Do
Our Home Modification and Renovation Services Include:
Bathroom / Kitchen Modifications
Ceiling Track Lift Systems
Swimming Pool or Spa Lifts
Custom Wheel Chair Ramps
Door Modifications (Widening etc.)
Motion Alarms
Grab Bars
Automatic Door Openers
Windows / Doors / Flooring
Specifications - Special Requests
Standard home modifications and remodeling is also available
We employ master craftsmen for your home renovations and certified installation of all adaptive equipment.
Free Consultations
Award Winning Service
Client and Professional References
Satisfaction is Guaranteed
Competative Fair Pricing
Walk-in Tubs and Roll-in Shower Units
Made in the USA - Adaptive Mobility of the S/W has helped many people realize the value of utilizing Walk In Tubs and Handicap Showers. We provide superior accessible bath tubs and Shower Designs which optimize the safety and comfort of our customers.
For generations bathtubs had the same "slippery" design which inspired new designs to resolve this problem. Intregrating luxuries into our walk in tubs such as Omni Hydrtherapy and PressurePoint Jets (while keeping installation quick and easy) have kept our customers safe and satisfied for years.
Keep your independence by using a walk-in tub in your home.
Benefits include:
- Convenient Entrance - Risk of Falling Reduced
- Bath seats Grant Comfort - Omni 3 Speed Jets
- PressurePoint Jets - Door Drain System
- Speed Drain - Replaces your existing bath tub /Easy Installation
- Wheelchair Accessible - Superior Quality
- Easy to clean - Replaces your existing bath tub/ Easy Snap In and Installation
Grab Bar for Bath or Shower
Need a grab bar in the bath tub or shower we have them! All types of grab aids to assist the mobility challenged from sitting to laying down. Call us for a brochure or in home assessment of your needs. Adaptive Mobility of the S/W proudly distributes and installs all of the fine products from Health Craft.
Automatic door openers for exterior or interior doors and gates. Easy safe reliable with included back up battery to operate the door opener in the occurrence of a power outage. Call Adaptive Mobility today for your Free evaluation.
Adaptive Mobility of the S/W proudly distributes and installs the fine products manufactured by Open Sesame door systems.
Lifts & Ramps
Make lifting safe for the mobility impaired and caregivers! Ceiling tracts and personal floor lifts that are dependable and easy to use. Adaptive Mobility proudly distributes and installs the fine products manufactured by Prism Medical.
Ceiling Lifts
Floor Lifts and Stand - Aids
Shower Chairs
Transfer and Repositioning Aids
Pool Lifts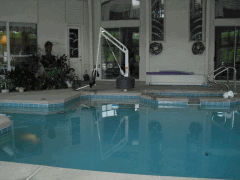 Aqua Creek Pool Lifts - Pool or hot tub access will never be a wish for the mobility impaired with personal pool access lifts! Battery operated for safety around water. Safe and secure movement from chair to pool or hot tub with these ADA compliant lifts.
Who We Are
Owner Jim Chavez has over 16 years of experience as a mobility consultant toward improving the living conditions and in providing adaptive modifications for individuals and families in need of an adjusted living environment.
Jim takes pride in ensuring that client dignity and privacy are maintained throughout the renovation process. Listening and hearing his client's needs is his most important duty.
Contact Jim Today!
For more information, or to learn more renovating your home (or the home of a loved one) please call (817) 235-0670 or complete our Request for Information form below.
OUR SERVICES ARE NOT FREE
Private Pay ONLY