More Home Care Products and Services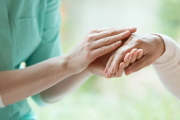 Hospice Care Services - Houston, Texas
During an illness that is terminal, you or your loved ones may talk with your doctor and decide the treatments meant to cure or slow a disease are no longer working, or you're ready to stop them. Your doctor can make a referral for hospice care, also known as end-of-life care.
Hospice care
is a special kind of care that focuses on the quality of life for people and their caregivers who are experiencing an advanced, life-limiting illness.
Hospice care
provides compassionate care for people in the last phases of incurable disease so that they may live as fully and comfortably as possible. Some people might think using hospice means they're giving up. Others may worry that they won't get the medical care they need. But the service simply focuses on the quality of your life instead of trying to cure a disease.