More Planning Ahead Services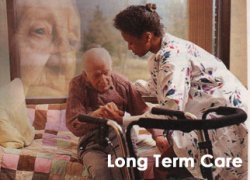 What long term care insurance?
Unlike traditional health insurance, long-term care insurance policies are designed to cover long-term services and supports, including personal and custodial care in a variety of settings such as your home, a community organization, or other facility.
What is long-term care?
Long-term care is a range of services and supports you may need to meet your personal care needs. Most long-term care is not medical care, but rather assistance with the basic personal tasks of everyday life, sometimes called Activities of Daily Living (ADLs), such as: Bathing, Dressing, Using the toilet, Transferring (to or from bed or chair), Caring for incontinence, Eating.
Texas Long-Term Care Costs:
Home Health Aide - Average Hourly Rate: $18 | Homemaker - Average Hourly Rate: $18 | Assisted Living - Lowest Monthly Cost: $1,450 | Assisted Living - Highest Monthly Cost: $4,500 | Assisted Living - Average Monthly Cost: $2,770 | Nursing Home - Semi-Private Daily: $125 | Nursing Home - Private Average Daily: $170.
Long Term Care Insurance - League City, Texas.