More Home Care Products and Services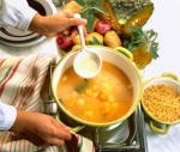 Senior Meal Preparation and Delivery Services - Rollingwood, TX
Once you get older, you won't be able to eat all the foods you used to eat but it's still important for older adults to eat healthy. Many seniors actually experience loss of appetite and change in eating habits due to a variety of elderly issues. However, it shouldn't up like this. You will need to make more effort in eating well and staying fit since your body becomes less forgiving as you grow old.
The preparation of meals on-site in one's home, as well as meal delivery services,
are becoming a very popular option for seniors who wish to remain in their homes, who no longer wish (or are able to) prepare nutritious, well-balanced meals.