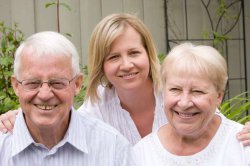 Article: Aging in Place at Home
Aging in Place Services - Temple, TX.
Aging in place is a term used to describe a person living in the residence of their choice, for as long as they are able, as they age. This includes being able to have any services (or other support) they might need over time as their needs change. The U.S. Centers for Disease Control and Prevention defines aging in place as "the ability to live in one's own home and community safely, independently, and comfortably, regardless of age, income, or ability level".