Serving NW Houston

8203 Willow Place South | Suite 345
Houston,TX 77070
Tel: 281-520-3746


The specialized home care services provided by At Your Side Home Care NW Houston makes a difference in the lives of the families we work with. When you choose At Your Side Home Care, you can rest assured your loved one is being cared for by a compassionate, experienced caregiver.
All of our caregivers and clients are connected to David and Laura, the owners of At Your Side Home Care, and carefully trained and developed to provide a personalized approach to your needs.
We provide our home care services to families and seniors throughout NW Houston including Champions, Cypress, Spring, and Tomball, TX.
Transition Care - How We Can Help

A transition of care (TOC) is when someone moves from one care setting – such as a hospital, skilled nursing facility, rehabilitation center or even their home – to another. Unfortunately, these transitions don't always go smoothly and a person can be readmitted to the hospital.
Obtain and review hospital discharge instructions and incorporate these instructions into a client's personalized care plan

Pick up prescriptions, provide medication reminders and help the client adhere to their prescribed regimen

Educate the client, caregivers and family members on red flags or warning signs for chronic conditions

Assist clients with scheduling and attending follow-up medical appointments
Communicate with the client's family members, discharge planner, health coach or other health care professional

Assist with personal care services such as bathing, grooming and personal hygiene

Help with meal preparation, laundry and light housekeeping

Identify trip hazards and make home safety recommendations

Provide companion care services

Provide home care services as needed
For individuals that need Transitions of Care services, At Your Side offers a one-time "Transition to Home" package. This includes transportation from the hospital, rehabilitation center or skilled nursing facility along with help getting settled in at home. We'll even call a friend or family member to let them know their loved one has arrived home.
Personal Home Care Assistance

At Your Side caregivers provide a wide range of non-medical home care services. Here are just some of the many ways we can help:
Assistance with hygiene and bathing

Hair styling

Assistance Getting in & out of bed

Assistance getting dressed

Incontinence care

Medication reminders

Meal preparation

Wash dishes

Dust / Vacuum / Iron clothes

Laundry / Change linens / Make the bed

Plan the day's schedule

Transportation to appointments
Hospital Stay / Discharge / Transition
When a loved one is in the hospital, you want to be there with them, but that isn't always possible. If you live far away, work full time, or have other family to care for, it may be difficult for you to get to the hospital.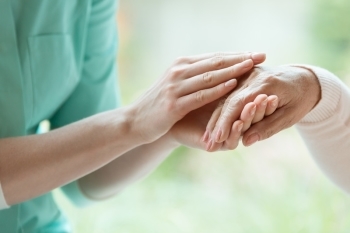 If the hospital discharges your loved one with little notice, and you live out of town or work responsibilities prevent you from taking them home yourself, take advantage of At Your Side's Transition of Care Packages.
Experienced staff meet with the hospital discharge planner shortly before you or your loved one is discharged to help ensure a safe and successful transition home. This includes picking up all prescribed medications, obtaining directions on how the medications are to be taken, as well as specific instructions on physical limitations and dietary recommendations, and when to schedule follow-up physician visits. Ask for more details! These services are offered per diem or on a short or long-term basis.
Our Caregivers
At Your Side Home Care's commitment to quality care begins with our compassionate and proactive approach to care. To ensure we hire the best caregivers in Northwest Houston, we have a rigorous 10-step hiring process for our staff along with ongoing training and evaluations through their employment with At Your Side. To ensure we hire only the most reliable and trusted caregivers, each applicant must:
Pass our caregiver skill set assessment

Pass our drug, ethics, attitude, responsibility and sexual behavior assessment

Participate in personal interviews

Have previous employment and personal references verified

Have professional licensing verified

Be checked against state and federal sex offender registries

Pass criminal background and state driving record checks

Participate in a full skills orientation

Demonstrate understanding of OSHA Universal Precautions, including proof of negative TB test

Pass Social Security verification
At Your Side maintains consistent staffing levels to meet the requirements of our clients. Service is available 24/7/365. We can provide same-day service, one-time service agreements and long-term care arrangements. We also offer transition of care service packages that include transportation home after discharge from a hospital stay or outpatient procedure.
We Have an Exceptional Staff!
At Your Side employs highly-qualified staff to create the staffing flexibility you need in a cost-effective and efficient method.
Our caregivers are experienced in caring for the special needs of seniors and those with physical challenges. Each is thoroughly screened and put through a 10-step hiring process that includes drug screening and background checks. At Your Side is responsible for the patient or the provision of all employee payroll.

David and Laura Hittler, Owners
For many people and their families, aging can be a stressful time. There are new emotions, stress and financial considerations that were never there before. We are here to guide you through that. We want to be your advocate, partner and friend who will give you advice while you're navigating this new arena.
My Favorite Thing About Helping People...
Spending time with my clients is hands-down my favorite thing about being in this business — seeing the smiles on their faces when I know we're doing the right thing. The relationships we have with our clients and their families are full of jokes and laughter. We're just like family and friends, giggling and telling stories. You know that friend who invites himself to dinner without you asking? I'm that friend, and I wouldn't have it any other way.
My Most Memorable Moment
Hurricane Harvey in 2017 was a difficult time for seniors in Houston. Stress can cause the health of our older adults to tip in a negative direction. I wanted to make sure my clients — who I truly consider friends — were taken care of. That's why I found myself swimming into a building to get medicine for a client who is very dear to my heart. Seeing the client overcome with so much emotion and gratitude was an important moment for me. Doing the right thing for my friends is why I am here.
David'Credentials Credentials
DementiaWise®-certified office

Certified senior advisor (a national designation to train individuals to better connect with seniors)

CHAP accredited to offer the highest standards in caregiver training

Bachelor's in marketing from Adrian College
One Last Thing…
I believe in integrity and honesty. All families, including mine and my wife's, have people who struggle. It's hard to not battle with them, but amidst all the conflict, let's do the right thing together. We will advise, guide and give all the help we can provide to make that happen. "It's all about integrity and honesty." -David Hittler
Contact Us!
Call our office at 281-520-3746 to discuss home care services provided by At Your Side Northwest Houston or visit our company website .
Texas Home Care License # 014655