At Your Side Home Care - The Woodlands, TX

Conroe

Magnolia

North Houston
Spring

The Woodlands
10200 Grogan's Mill Rd Suite 360
The Woodlands, TX 77380 { Map }
Tel: (281) 719-5221

The specialized care provided by At Your Side Home Care makes a difference for families giving family caregivers much needed opportunities to take time for themselves. We track quality of care to be sure your concerns are quickly addressed. Our highly-trained staff are always available, 24 hours a day, 7 days a week, including holidays.
We serve seniors and families throughout Conroe, Magnolia, North Houston, Spring, and The Woodlands, TX. Before we ever select caregivers, we meet with clients and take note of their personality and speak with them about their life history. This helps us select the most compatible caregiver for each client we work with. We also provide Dementia & Parkinson's Care.
Home Care Services
As our loved ones grow older, tasks that once seem routine can often become increasingly difficult. For some individuals having home care assistance can help to make daily life easier. At Your Side Home Care services allow clients to continue to live in their own comfortable surroundings, but receive the helping hand that makes it easy to stay independent and active. Our caregivers are available 24 hours a day, 7 days a week, even on holidays to offer home care services to individuals throughout The Woodlands and surrounding areas.
Companionship
Having a companion around the house to assist with running errands or provide transportation for individuals going to appointments or social activities can help ensure our clients' safety.
Having a caregiver to help with these tasks can be incredibly beneficial for both older adults and their family members. This provides older adults with the ability to focus on what really matters: their health, well-being and happiness.
Transportation Assistance
At Your Side caregivers can help seniors with transportation needs in order to run errands, make it to doctor's appointments, go to social activities, or just get out of the house for a while. Having assistance with transportation can give seniors a much needed break from being home alone, having a companion to run errands with can help individuals avoid injuries and enjoy outings more.
Personal Care Services
At Your Side provides a wide range of daily personal services to individuals in The Woodlands, Texas area. Our kind-hearted caregivers will provide a helping hand to clients, which can be a relief for aging adults and their loved ones.
Our support is available as little as a few hours a week or up to 24 hours a day, seven days a week. Through our personal care services, caregivers are able to maximize clients' quality of life by working respectfully with them to retain independence and bring out any abilities that are still present. Our personal care services include:
Our Team
Each of our professional caregivers is experienced and highly trained in home care best practices. We also ensure they meet a rigorous 10-step hiring process. All caregivers are provided with continuous education to ensure the most up-to-date care techniques are used when caring for our clients.
With At Your Side The Woodlands, you can feel confident in the care you or your loved one is receiving. You can feel comfortable in knowing a dedicated caregiver is there to help. Our responsive management team is waiting to answer any questions that come up. Therefore, you can rest assured you will always be heard, taken care of and able to live your best life possible.
Transitions of Care
At Your Side provides transitions of care services to individuals in The Woodlands area. Transitions of care services help transport your loved one safely between a medical facility, such as a hospital, hospice, skilled nursing facility or assisted living community, and their home.
The Transitions of Care Program through At Your Side The Woodlands provides clients with one-time or ongoing individualized service plans, which include a personalized routine based on a nurse's evaluation and in-home safety checks. Our agency can perform fall-risk assessments in your loved one's home and can provide fall-prevention tips.
Hospital-to-Home Transition
With hospital-to-home transition care, our caregivers are able to provide transportation and help an individual with meal preparation, running errands, following discharge plans, medication reminders, light housekeeping and more.
Our caregivers are happy to help your loved ones as needed because we understand it's important to provide individuals with supervision and assistance around the clock after a hospital discharge to help ensure their safety and well-being. For older adults, continuing to monitor care after release from a facility is crucial for a full recovery. If seniors require supervision and assistance 24 hours a day following a hospital discharge, At Your Side is happy to help.
Ongoing Assistance
We understand that sometimes the reason for a hospital stay is due to something that affects the individual's ability to perform regular activities of daily living during their recovery period. In this situation, At Your Side can develop a continued care plan to help meet your loved one's needs on a continual basis. Our team will work with you to determine whether an ongoing caregiver service provision plan would be ideal for your loved one.

About Our Owners
Proud Texans, Parents, Passionate Senior Advocates
Our core passion is helping people. We are intimately familiar with some of the challenges that come with aging family members and have firsthand experience caring for a loved one.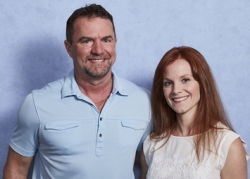 As Shawn's father began to age, his mother was the primary caregiver. Shawn did what he could to help, but recognized his father – and mother – would have benefited from high-quality, compassionate care. It was an impactful experience that led us here.
We are dedicated to helping our clients live their best lives through our services. From caregivers to clients, we think of everyone as our family and treat them as such. There is no greater joy than helping people solve problems through compassion, integrity and kindness.

Tamara's Credentials
Master's in communication disorders from the University of Houston

Bachelor's in communication disorders with minor in psychology from the University of Houston

Member of The Woodlands Area Chamber of Commerce
Shawn's Credentials
Contact Us!
With At Your Side The Woodlands you can feel comfortable in knowing a dedicated caregiver is there to help. Our responsive management team is waiting to answer any questions that come up. Call our office today at 281-719-5221 to discuss the home care services provided by At Your Side – The Woodlands or visit our company website .
Texas Home Care License # 018165