Assisted Living & Memory Care
Cedar Park, TX
2215 South Lakeline Blvd.
Cedar Park, TX 78613 { map }
Schedule a Tour – (800) 696-6536

License # 141659 Certificate # 103390
Small / Large Class B Assisted Living
Avalon Memory Care believes in taking a whole new approach in caring for those with Alzheimer's Disease and related dementias. Avalon Memory Care, located in Cedar Park, Texas is an Alzheimer's Assisted Living and Memory Care community.
Avalon Memory Care is licensed by the State of Texas as a Small/Large Class B Assisted Living with Alzheimer and Related Disorders certification. The intimate environment allows for better care provided by happier staff members, quality meals, and an activity schedule that can be customized for the benefit of each and every resident.
The husband/ wife team of Ray and Charlotte Atkinson have a tremendous amount of experience with this population which includes Mrs. Atkinson's clinical knowledge as a veteran licensed R.N. Assisted living providers are not required to employ a full-time RN but Avalon Memory Care has chosen to do so. Avalon Memory Care was also selected by the IBM Employees Benefit Trust as the choice of IBM employees as an outstanding provider of a unique revolutionary form of dementia care.
Watch this video to learn more about Avalon Memory Care.
Avalon specializes in care specifically for those with Alzheimer's or related dementias, but is happy to assist in these and other extenuating circumstances:
Dementias induced from temporary illness, surgery, or accident
Requiring assistance with balance, mobility and using canes, walkers, or wheelchairs
Incontinent, frail or needing assistance and supervision with activities of daily living
Visually or hearing impaired
Experiencing memory loss, dementia, Alzheimer's, confusion, wandering or depression
Our services are based on family requests, needs, pre-admission appraisal, and subsequent reappraisals. These services include:
Assistance with bathing, dressing, grooming, toileting, feeding, incontinence, walking, and activities of daily living
Continuous care by trained staff, supervision, and monitoring 24-hours a day, and observation for changes in physical, mental, emotional, and social functioning
Bedside care for temporary illnesses, recovery from surgery, or accidents
Continuous communication with family, physicians, and other appropriate persons or agencies regarding a resident's needs
Mental health care and counseling
Medication management including assistance with ordering, safe storage, and taking of prescribed & over-the-counter medications in accordance with physician's instructions
Assistance obtaining necessary medical and dental needs
A planned social and recreational activities program including arrangement for utilization of available community and facility resources
Health promotion and exercise programs
Accomodations
Comfortable and tasteful furniture (bedroom furniture supplied by family member unless requested otherwise), fresh linens and towels
Daily cleaning, maintenance, and housecleaning services
Arrangement for in-house (or transportation to) medical and dental appointments
24-hour security and staff availability
Complete laundry of personal clothing
A spacious private or semi-private bedroom
Secured yard, covered decks, and garden areas
Warm, sunshine-filled sitting area
Customized security and fire protection systems
Private visitation areas
Nutritious Meals
We serve three home-cooked meals every day along with nourishment supplements and snacks between meals.
Our meals are well-balanced, healthy and delicious.
Often times we are joined by family members and guests who are always welcome in our home. We accommodate special diets as prescribed by a physician or by personal, cultural, and religious preferences.
Our weekly menu focuses on the four essential food groups that keep the body well.
Fresh Fruits and Vegetables
Whole Grain, Enriched Breads, and Cereals
Milk and Dairy Products
Fish, Poultry, and Lean Meats
Social and Recreational Activities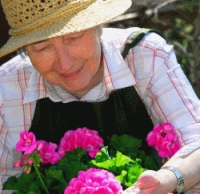 For the residents, an AVALON Home is a welcome solution for someone who needs 24-hour a day care.
The basic needs of your loved ones are met, while at the same time the highest standard of living is obtained – a standard of living that the resident deserves, not simply artificial activities to keep them busy.
Baking, gardening, and other activities that would not be possible in other settings may still be enjoyed by our residents.
We offer a planned schedule of activities that makes use of the resources of our homes and the beautiful surroundings of our neighborhood.
Contact Us!
For more information about Avalon Memory Care, or to schedule a tour, please call (800) 696-6536 or complete our Request for Information form below.
Facility ID:106027