Award-Winning Dining By Design
The dining experience at Clayton Oaks Living features great food, great conversation, and an inviting atmosphere. ISL's signature "Dining by Design" program was developed to enhance social interaction, proper nutrition, and overall resident well-being.
Integral Senior Living won the Assisted Living Federation of America's (ALFA) prestigious "Best of the Best" award for its dining program, enabling Clayton Oaks Living to offer one of the best culinary practices in senior living.
Essential to Dining by Design are:
Chef-prepared meals
Signature dishes served with well-rounded food choices
Restaurant-style ordering and service
Resident involvement in meal planning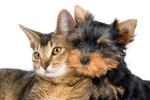 We adore pets. Small dogs and cats are welcome!
Contact Us Today!!
When seniors choose Clayton Oaks Living as their home, they enjoy the elegantly appointed environment, tantalizing meals, amenity-rich lifestyle and health-promoting personalized care services. And, the entire family has the added peace of mind of knowing their loved ones are looked after 24-hours every day.
For more information, to receive a copy of our brochure with floor plans or to schedule to tour our beautiful senior living community, call (281) 341-6200 or complete our Request for Information form below. We'd love to hear from you!

Lic #106184