C&S Healthcare Services
Personal Assistance Services
Bellaire

Cypress

Houston
Katy

Sugar Land
15430 Ridge Park Dr. | Houston, TX 77095
Tel: (281) 550-8444
C&S Healthcare Services specializes Personal Assistance Services (PAS) care for seniors in the Houston area 24 hours a day, 7 days a week. Whether you or your family member is in need of meal preparation and grooming assistance, a companion, home care assistant, or complex medical care, our competent staff can help. We also provide Geriatric Care Management.
As caring professionals we are pleased to help with any of your specific home care needs. Our nursing staff at C&S Healthcare is available to answer your questions. Whether you or your family member is in need of meal preparation and grooming assistance or complex medical care, our competent staff can help.
Personal Care and Assistance

Our Personal Assistance Services (non medical in-home care) can be beneficial to an individual that has no acute medical needs but requires assistance with day-to-day activities. Persons desiring activity, interaction and stimulation can also benefit from this home care service.
Non Medical In-Home Care Services Include:
Companionship, Encouragement and Reassurance
Activities and Exercise
Meal Preparation
Personal Chores, Shopping and Transportation
Assistance with Activities of Daily Living
Bathing, Dressing, Toileting, Personal Grooming
Simple Ambulation Assistance
Comfort for Clients Facing the End of Life
Laundry
Errands
Organizing Tasks
C&S Healthcare employs Certified Nursing Aides, Home Care Aides, or Licensed Home Health Attendants. These dedicated caregivers strive to provide the highest standard of home care services to ensure that our clients are comfortable and safe.
Private Skilled In-Home Care
At C&S Healthcare Services, our Registered Nurses supervise and coordinate care for the medically complex patient.

C&S provides home health care within the Houston area for adults needing assistance with indwelling Foley catheters, intermittent catheterizations, feedings or medications through a gastric (stomach) tube or medications that require frequent monitoring whether long term or short term following an illness or hospitalization.
C&S Healthcare Services helps seniors stay at home even when skilled care is needed.
Skilled care can be provided in the comfort and safety of the patient's home under delegation and supervision of a Registered Nurse. A Registered Nurse oversees the care provided by Certified Nurse Aides, Home Health Attendants and Home Health Aides who are able to perform health maintenance tasks to help improve the quality of life for seniors.
C&S offers the highest quality of home health care and services for adults including, but not limited to:
Comprehensive Assessments
Home Visits by a Registered Nurse
Medically Complex Healthcare including Physical and Occupational Therapy
Filling Medication Boxes or Organizers weekly or on a Monthly Basis
Administering Medications
Diabetes Management
Foley Catheter Care
Intermittent Catheterizations
G - Tube / Feeding Tube Care
Nebulizer Treatments
Approved Exercise programs
Oxygen Monitoring
Providing Care for Your Loved One
You can always expect compassionate, trustworthy, and reliable caregiving services from every staff member. The competency of each caregiving employee is evaluated by a Registered Nurse to ensure safe caregiving practices.
All employees are vetted by an extensive interview process, criminal background check, driving record, and work references.
C&S carries business insurance for client protection and non-subscribers work injury coverage for all employees. Whether your residence is a community, facility, senior apartment or your own home, we can provide the additional home care that is needed and often essential for your health and wellbeing.

Caregivers provide a variety of services including but not limited to:
Bathing, Dressing & Grooming Assistance
Meal Preparation and/or Feeding
Transportation
Medication Reminders
Medication Administration
Vital Sign Checks
G-tube Feedings
Foley Catheter Care
Intermittent Catheterizations
Maintain Your Independence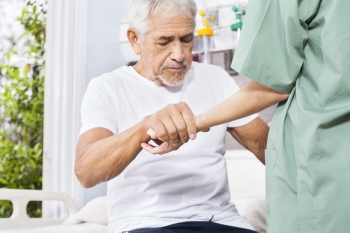 You may receive therapy services in the comfort of your own home, apartment, or community.
At C&S Healthcare Services, individual therapy plans are specifically designed to meet the needs of our clients.
How Therapy Improves the Quality of Life.
Physical therapy improves mobility, strength, balance and endurance so that one can remain as independent as possible.
Speech therapy assists clients with their communication, memory and swallowing needs.
Occupational therapy improves clients' abilities to perform activities of daily living.
Social Services
Our licensed Medical Social Worker helps clients determine the best options for home care based on the individual's needs. Under a physician's order the Medical Social Worker may assess the client in the comfort of his or her home. Through active listening, our Medical Social Worker provides support for seniors and their families.

Short term memory loss or dementia may rob a loved one of his or her independence. When memory loss occurs a caregiver can provide personal assistance so that a senior adult can remain safe at home. C&S Healthcare Services competent, caring home care staff will provide that "little help".

Medical Social Workers can assist clients by providing:
Supportive and Active Listening
Assistance in Long Term Care Planning
Assistance in Advance Care Planning
Assistance Finding and Utilizing Community Resources
Our Team
Cindy Hartman, RN, BSN
President
Administrator
Aging Life Care Professional
Cindy holds a Bachelor of Science degree in Nursing from the University of Texas at Arlington. She has 30 years of clinical experience including: medical/surgical nursing and home health care. Cindy served as the Director of Professional Services supervising all disciplines in five home health care offices in the South Texas area. In 1997 Cindy began her Geriatric Care Management practice and started C&S Care Management, Inc.
Within 5 years she opened C&S Healthcare Services, Inc. to provide in home care to the elderly and disabled. She is a member of the Aging Life Care Association. Cindy is married to the love of her life, Steve Hartman. They have three children and nine growing, vibrant grandchildren that keep them young.
Joyce Bridie, RN

Director of Nursing
Alternate Administrator
Joyce is a Registered Nurse and native Houstonian. She is a wife, mother of three, and grandmother of seven precious grandchildren. She treasures family time especially being outdoors with her grandchildren. Her compassion and devotion to help those struggling with their health, be it children with cancer, a ninety three year old lady with a broken hip, or just someone who needs a little help to stay independent in their own home, has been a consistent guiding force in her life. In fact, it was observing her friends and family age that intensified her devotion to geriatric nursing.

Joyce is relentless in her advocacy, she is not intimidated to fight for her clients and their families. It is her unswerving commitment to family (be it hers or those she cares for) that has earned her the respect and trust of all she comes into contact with. This passion to do the right thing is absorbed by those she mentors and guides. This ensures that her dedicated team of personal service attendants provide the best care possible for clients in their homes.
Contact Us!
Have you or a loved one thought about Nursing Services or Home Care? Call an RN Care Manager today at (281) 550-8444 or visit our company website .