Private Pay Non-medical transportation for adults 60+
"We help you to get there because we care"
Fidel Garza, Owner and Founder

Tel: (512) 963-9673
Request Information
What is Elder Transportation Services?
There is a market gap in the local senior transportation industry including senior transportation service providers. Elder Transportation Services looks to improve the disadvantages to the senior transportation industry.
Elder Transportation Services provides private pay Non-Emergency Medical Transportation (NEMT) and Paratransit services for seniors and seniors with a disability throughout Austin, Georgetown, Round Rock, Cedar Park and Leander, TX.
Elder Transportation Services understands that there is a growing demand for senior transportation services and looks to improve the disadvantages that many communities and local neighborhoods face each year. Seniors and seniors that live with a disability and that are under special in-home care or in-personal services require additional services to help them in their daily lives. Thus, these seniors and disabled seniors do not have the means to rely on themselves to commute to and from certain places for personal needs and wants.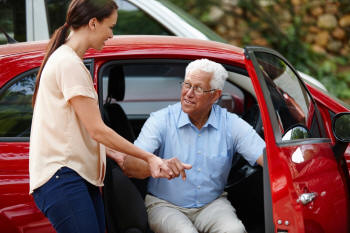 Special Accommodations
Elder Transportation Services provides special accommodation to senior and disabled seniors that are hearing and visually impaired and others that have walkers, canes, and wheelchairs. Our vehicle is not equipped with wheelchair accessibility, but we are looking to explore that market opportunity in the near future. Our vehicle accommodates seniors or disabled seniors that are able to move in and out of a wheelchair into a four-door sedan vehicle.
Hiring Process
Elder Transportation Services provides a preliminary employment hiring process. All drivers are fingerprinted and screened for criminal history. This safety mechanism ensures driver and rider safety during each trip and reduces the liability and risk due to unforeseen circumstances.
Destination Options
Each rider will have an option to choose an ending destination. The following are some examples of pick-up and drop-off destinations that Elder Transportation Services will accommodate:

• Dentist appointments

• Dialysis appointments

• Doctor's appointments

• Eye appointments

• Urology appointments

• Neurology appointments

• Retinal appointments

• Psychology appointments

• Pharmacy

• Entertainment centers

• Long distance transportation, including: Dallas, San Antonio, and Houston.

• And more!

Driver responsibility

Elder Transportation Services Driver Responsibility Program ensures that each of our drivers perform exceptional service to our riders. Drivers will uphold exceptional service standards during every ride. Below is a list of our service responsibilities,

1. Meet and greet every rider before performing transportation services. During this time, drivers will introduce themselves and get to know each rider personally.

2. Drivers will escort their rider to the car, offer additional help before entering the car, including opening the door and closing the door, and buckling in each rider.

3. Drivers will make sure that the inside temperature satisfies each rider before starting a scheduled ride.

4. Drivers will make sure to follow state speed limit postings on each road, interstate, and highway.

5. Drivers will assist each rider to their location and perform additional services to help them exit the vehicle.

6. Drivers will review each ride and report to their community center at the end of the week.
Elder Transportation Services defines exceptional service in two ways. One, reliability. Two, cost-efficiency.

Reliability: Elder Transportation Services will guarantee to meet every rider at their pick-up destination to ensure that our business meets our reliability standard of exceptional service. Our driver will never default or cancel a ride. In the event that an accident occurs our driver will notify the rider immediately.

Cost-efficiency: Elder Transportation Services provides a price structure that is cost-efficient. We guarantee to meet or exceed rider expectation for every ride. In addition, our promotional discounts provided on a per month basis will ensure quality promotional strategies to increase market power and ensure recurring riders ever year.

We guarantee to go above and beyond rider expectation and satisfaction. Our Quality Assurance team determines to be the best of few senior transportation businesses to provide quality exceptional services to seniors and disabled seniors in the local area of Central Austin.
Cost
We charge $.50 per minute and there is an $8.50 base charge. You can book an appointment without paying. Please read the instructions carefully before submitting an appointment request. You may request to schedule same day appointments, if a time is available. For best results, please schedule an appointment 24-48 hours in advance. If you are unsure on how many minutes it will take for you to get to your destination you may call us at (512)-963-9673 and will be happy to assist you with pricing.
Cancellation Policy
Please cancel a scheduled ride request 1 hour prior to a scheduled pick-up time. There is no cancellation charge policy at the moment, but we will enforce one in the distant future.
Contact Us Today!
For more information, or to book an appointment, contact Elder Transportation Services Services Tel: (512) 963-9673 or complete their Request for Information form below.