Transportation Services
NOTE: We provide transportation only to those who have signed on for our services.
When you have a doctor's appointment, need to run to the hospital for tests or just simply want to go out shopping or to lunch, Fredericksburg Home Care, LLC can help you get there! While we are not a taxi, bus or ambulance we can provide incidental transportation in conjunction with our Companionship services.
What that means is we won't just pick you up and drop you off at your destination. We can help you get ready, escort you to your appointment, take notes (if you wish), coordinate prescription pick-up or future appointments. We will stay with you until your appointment is complete. When we return home we will stay with you until you are settled and ready to be on your own.
There will be a 3-hour minimum per visit, and we kindly request at least a 24-hour notice.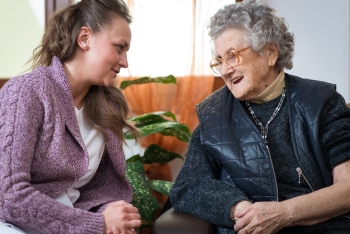 Dementia Care Services
Home is a place of familiarity and comfort for those suffering with dementia, or memory loss. With the onset of dementia some individuals are better off staying in their own home and Fredericksburg Home Care, LLC can help make that possible.
With our caregivers education and assistance we can provide a customized care plan that:
Allows your loved one to remain calm in the comfort of their own home
Encourages engagement and social interaction
Provides nutritious meals
Helps manage changing behavior
Inspires your loved one to reminisce about the past
Supports the family in the changes dementia creates
Respite Care Services
Are you taking care of a senior family member? Do you need to get out and run a couple of errands? Fredericksburg Home Care, LLC can provide Respite Care daily, weekly or as needed.
Our compassionate caregivers can come to your home and allow you the time you need to take care of yourself. Whether you need to shop, attend a function, get that much needed exercise you have been putting off or just enjoy lunch out with friends our Respite Care Services will allow you to do just that.
Post Discharge Care
According to the Medicare Payment Advisory Commission nearly one in five Medicare patients discharged from hospitals today are re-admitted within 30 days, often unnecessarily.
Fredericksburg Home Care's post discharge services can reduce the chance of re-admittance to the hospital simply by offering medication reminders, transportation to follow-up visits with the doctor, nutritious meals, hydration and safety preparations. Additionally we will meet with the hospital staff or family members to develop a detailed plan of post discharge care which will be implemented by our caregivers.
About Fredericksburg Home Care
Fredericksburg Home Care, LLC is locally owned by Cindy Stewart. Cindy and Christina Rohlf, Administrator, have over 30 years of management and leadership experience. They have both worked in the health care industry for many years.
All of our caregivers go through extensive background screens and are thoroughly trained for service in your home. We look forward to serving the residents of Gillespie and Kerr counties for many years to come.