About Us
Graceful Aging Assisted Living is a Private Pay / Type A assisted living / personal care home located in a luxurious model home community home in Round Rock, TX. We offer a 1:3 (staff:resident) ratio and 24/7 registered nurse oversight for adults who do not require specialized care, although skilled nursing care through the resident's preferred agency choice is available. Live-in RN on site.
As a Type A residence this means that a resident must be physically and mentally capable of evacuating the facility unassisted. This may include the mobile non-ambulatory persons such as those who are in wheelchairs or electric carts and have the capacity to transfer and evacuate themselves in an emergency. This resident does not require routine attendance during nighttime sleeping hours and must be capable of following directions under emergency conditions.
Our residents have 24/7 onsite visit or phone access to a nurse advocate assigned to them. We are located in a clean, beautiful community with a bus route and within minutes from a major hospital, tollways and grocery stores. It's an ideal living space for those with a limited income looking for a decent place they can call home without sacrificing quality service.
We offer a full package including utilities, housekeeping and home style living spaces. We take pride in providing exceptional service!
Our assisted living services include (but are not limited to) the following:
3 nutritious home cooked meals and snacks daily

Medication management

Wellness advocate

Private room with all inclusive utilities plus cable TV

Assistance with bathing, dressing, grooming, toileting,housekeeping and laundry

Appointment schedule and reminders

Assistance with hobbies

Housekeeping

Assistance with transportation scheduling and, much more.

We believe sound health and wellness may quickly become a daunting task for those adult living alone, with a disability, limited income or limited family support. At our place, we come alongside our residents on their journey to health and wellness. With our residents' permission, we assume a role of advocate for them. We act as liaison officers for our residents and their healthcare workers, case managers and discharge planners.
Our Staff
The owner and manager of this business has been a skilled Home health field Registered Nurse for over 8 years. She has a first hand experience with managing clients who are unable to stay out of the hospital or rehabilitation facility for extended periods of time because they live alone with lack of needed family support.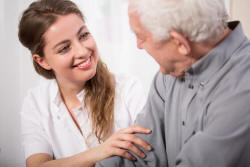 Our team of staff comes from all walks of life, mostly healthcare.The team is led by the owner who is a Texas Registered Nurse of over 15 years with a background experience in cardiac nursing care, rehabilitation care and Home health field nursing.
We have a great passion for graceful and quality service to our residents and community. We are committed to our residents' overall well-being. We don't just focus on feeding and housing our residents. We pay attention to whatever helps our residents live a fulfilled and healthy life and support them in their quest for a happier life.
Contact Us Today!
Call or visit Graceful Aging Assisted Living in Round Rock today at (512) 620-3004, or complete our Request for Information form below.