Longhorns In-home Health Services helps individuals remain independent in the comfort of their own home. Whether your loved one needs help with daily activities, Alzheimer's/Dementia or post-surgical support, Longhorns In-home Health Services is here to help. We don't require a contract to start caring for you and your loved ones. Give us a call to learn more about our services. We are locally owned and community involved.
About Our Caregivers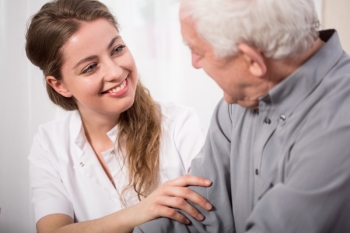 All of our caregivers have successfully passed a thorough reference and national criminal background check and are bonded and insured. We match your specific needs and requests to the skills and background of each caregiver to find the ideal companion.
Our well trained personal caregivers provide high quality in-home care services that help people remain living in their homes with dignity and independence.
Non-Medical In-Home Services Include:
Homemaker/Companion services
Personal Assistance Services
Laundry and changing linens
Errands/Dr. Appts./grocery shopping
Meal planning, cooking and clean up
Monitor food expiration
Light housekeeping -mopping, sweeping, dusting
Medication reminders
Assistance with mail and organization
Sitter services
Appointments scheduling and reminders
Safety and fall precaution
Recreational activities and Hobbies
Assistance with walking

Longhorns In-home Health Services also provides these supervised services
Activities of Daily Living (ADL's)
Alzheimer's Care
Parkinson's Care
Medication Reminder
Respite Care
Post Surgical Support
Stroke Support
Cancer Support
Personal Hygiene: oral care, bathing,dressing, grooming, toileting, and incontinent care
Relief and Respite care for family caregivers
Vacation care at home while family caregivers take a vacation
Feeding, positioning, exercising, mobility and transferring​
And many other services
About Us

Our services are not clinical in nature. However, in-home care can play an important role in providing a safety net for the frail among us. Caring for a loved one can be challenging and stressful. We can help. In-home care has been shown to be a supportive tool in reducing falls and hospital readmission.
Our services are a perfect fit for those aging in place and adults with disabilities who need assistance with activities of daily living around their home and community.
Longhorns Inhome Health Services office staff is available 24 hours a day, 7 days a week, 365 days a year. When the office is closed, there is an on-call person available to help you by calling (512) 677-2045.
Contact Us
Longhorns In-home Health Services is the leading provider of home care and senior services. For more information please, call (512) 296-2556, or complete our Request for Information form below. Longhorns In-Home Health Serves...Caring For Your Loved Ones At Home.

Longhorns Inhome Health Services
7901 Cameron Rd Building 3 Suite 372 | Austin, TX 78754
Tel: (512) 296-2556
Texas Health & Human Services - Lic# 018548