Pioneer Senior Solutions are experts in helping Texans preserve assets and qualify for long-term nursing home Medicaid. Pioneer Senior Solutions was founded because we saw the need to provide under-served families expert long-term nursing care financial expertise even in the most difficult of circumstances.
Simply put, we are experts in helping Texans preserve assets and qualify for long-term nursing home Medicaid.
We help Texans living throughout Abilene, Amarillo, Austin, Corpus Christi, Dallas, El Paso, Fort Worth, Houston, Lubbock, Midland, New Braunfels, San Angelo, San Antonio, and Waco, TX.
We provide legal aid, eligibility accounting, income and asset protection, application filing, and complete Medicaid representation. We believe that all Texans should have access to only the best Medicaid planning resources regardless of location, income, or individual circumstances.
Our Mission:
Our mission is to serve Texas families with assets, or those with complex situations, help receive nursing home Medicaid. Nursing home Medicaid is complicated , and we make it our business to know and understand the difficulties. We welcome the challenge and will be there every step of the journey.
Medicaid planning is legal, and it is legal to receive support in completing your Medicaid application. Would you file income taxes without planning and help? Your case will be handled with the utmost care by a team of our experienced analysts, support staff, and the independent supervision of our seasoned attorney.
Income Limits for Long-Term Care Through Texas Medicaid
To be able to get Texas's Medicaid program to pay for long-term care in 2019, a single person's monthly income cannot be higher than $2,313. If both spouses of a married couple need nursing home care, the couple's monthly income cannot be higher than $4,326.
We know navigating Medicaid eligibility can be challenging, so we've documented a breakdown of the basic financial and non-financial requirements. Think you don't qualify? We may have a solution!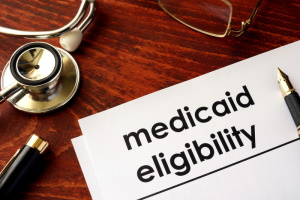 The good news: If you're an individual or couple who receives or needs long-term care in a nursing facility, Medicaid assistance is available to you and you do not need to lose all your assets to receive benefits.
Note: The vast majority of people considering long-term care Medicaid are over the income or asset limits, or both, have given a gift, have too much property, one too many vehicles, excess life insurance, and most still cannot afford the cost of long-term care. We can help!
From preparing an eligibility plan and organizing the estate, to obtaining financial instruments and negotiating coverage with Medicaid, we offer a portfolio of support to bring you through this chapter of your family's story.
Our Services

Simply put, we are experts in helping Texans preserve assets and qualify for long-term nursing home Medicaid.
We offer the following services to better serve you:
Representation for Long-Term Nursing Home Medicaid

Spousal Income and Asset Protections

Program Transfer (STAR+PLUS)

Attorney Prepared Legal Documents

Legal Gifting / Transfer of Assets

Real Estate Representation

Life Insurance & Annuity Evaluations

Oil and Minteral Rights Evaluations

Pre-Need Funeral Trusts

Nursing Home Search and Placement

Notary Services

Attorney Prepared Legal Documents
We are experts in helping Texans preserve assets and qualify for long-term care nursing home Medicaid. Our knowledgeable attorney is ready to provide you the legal documents needed to complete your long-term care Medicaid plan.
Our knowledgeable attorney provides only the best legal documents needed for your Medicaid eligibility and estate planning efforts incuding:
Durable Power of Attorney

Qualified Income Trust (QIT)

Lady Bird Deed

Transfer on Death Deed (TODD)

Uniform Transfers to Minors Act (UTMA) – Texas Compliant

General Warranty Deed
Each document is individually drafted to ensure accuracy and efficacy to your unique circumstances and comes with personal instructions and guidance on the execution and use of the material. Processing time is 1-2 business days.
Contact Us Today!
Considering nursing home Medicaid? Would you like to protect assets and still achieve eligibility? We may have a solution! We provide expert income and asset protection with legal representation. Contact us today to a free consultation at (210) 866-5001 or Toll Free 1-800-576-8547, or complete our Request for Information form below.