South Austin

Buda

Kyle
San Marcos

New Braunfels

License #015185 | Bonded | Insured
RedBud Home Care is a bonded, insured and licensed in home senior care agency proudly serving the areas of South Austin, Buda, Kyle, San Marcos and New Bruanfels, Texas.
RedBud is licensed and governed by the Department of Aging and Disability Services.

Our Well-Being Approach
Well-being Approach to Home Care Services At RedBud Home Care, we believe that person's value and worth should not be connected to their ability to access a specific kind of memory. Anyone living with dementia should be respected as a complete person and honored as an individual. It is important not to look forward with fear, but to embrace each and every moment in the present as a gift.
Truly knowing and learning how to best communicate with the person with dementia is essential in supporting activities that nurture a sense of well being. A sense of well being is what makes life enjoyable for everyone, and this does not change with a dementia diagnosis. Many of the negative behaviors we might associate with advanced dementia – anger, wandering, anxiety, distress and helplessness – can be greatly decreased and alleviated by fostering a sense of well being.

Why RedBud Home Care Services
Being a small, family run agency, RedBud is fortunate enough to get to know and work closely with each of our caregivers. We employ a variety of caregivers ranging from young nursing students and certified nurse's assistants (CNAs) to more mature and experienced caregivers. Due to this variety, RedBud is able to match you or your family member with a great caregiver that suits your/their needs and personality.

About Our Caregivers
RedBud caregivers are licensed through The Department of Aging and Disability Services (DADS) to perform personal assistance services. This means we can help with light housekeeping, meal preparation, medication reminders, transportation for errands and doctor's appointments, as well as with toileting, brief changing, showers/baths and bed baths.
Our caregivers also assist with day to day hygiene such as brushing teeth, doing make-up and hair, and applying lotion. In order to ensure continuity of care as well as the appropriate caregiver for your needs, RedBud requires a 4 hour minimum.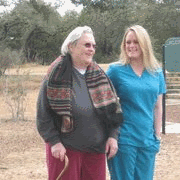 Before caregivers are scheduled for their initial interview, we check their qualifications to see if they are a Certified Nursing Assistant or have at least a year of direct care experience with the elderly. During their interview, we rank their training and prior experience in all the specific areas they may working with us – bathing, transferring, cooking, medication reminders, toiling, dementia care.
In addition to meeting basic criteria, we also look for caregivers that show a genuine interest in the elderly and are passionate about their work. Since our company has a well being approach to caregiving, we seek out caregivers who have interests that can help support our clients overall quality of life.

Our Home Care Services
Red Bud focuses on our clients Activities of Daily Living (ADL's). These are the tasks and activities one needs to accomplish to successfully live at home. They include personal care, bathing, cooking, light cleaning, toileting, mobility, etc. We also provide help with transportation, organizing, pet care, shopping, medical appointments and communication. Most importantly, we provide companionship, safety and security.
RedBud sends a caregiver to your home to assist you with your Activities of Daily Living (ADL's) in order to allow you to continue living at home. While there is some variation in definitions of ADL's, the basics are:
Bathing and Grooming
Transportation (errands, shopping, doctor appt. etc.) to those who have signed on for services
Dressing and Undressing
Meal Preparation and Feeding
Functional Transfers
Safe Restroom Use and Maintaining Continence
Ambulation
Memory Care and Stimulation

Who Needs Home Care?
There are many reasons one might seek out assistance to continue living at home. At RedBud we most often work with:
Clients experiencing Cognitive Decline
Clients living with Parkinson's
Stroke Survivors
Fraility
Clients living with Chronic Conditions

What Else Do You Need Help With?
At RedBud we believe ADL's are just the beginning of our work and that our single most important task is addressing the total well-being of our clients and their families. Many other activities and services may play a role in a care plan such as:
Conversation and Companionship
Friendship
Walking
Exercise Programs
Visiting Friends and Neighbors
Day Trips
Gardening
Correspondence with Friends and Family
Cooking and Exploring New Foods
Grocery Shopping
Secretarial Support
Scheduling
Homemaking
Medical or other Appointments
Medication Reminders

Experience Working with Alzheimer's and Dementia
RedBud works with many clients who are experiencing some degree of cognitive impairment and we are very sensitive to their changing needs. Our first and only mission is to provide for the safety and emotional well-being of our clients. Our entire staff is sensitive to the unique needs of those experiencing a cognitive impairment and through teamwork, training and problem solving we are able to provide care solutions that meet their needs.

Contact Us!
We've found the best way to help is by listening to your story and applying our experience to arrive at a custom solution for your loved one. Let's talk. For more information please call (512) 523-8245 or complete our Request for Information form below.

RedBud Home Care
Sean Thornton, Senior Care Manager
11200 Manchaca Rd. Suite 305
Austin, TX 78748
Tel: (512) 523-8245