Austin

Dallas

Fort Worth
Houston

Plano

Sugar Land
Tel: (512) 371-6164

At Theora Care, we want to help all caregivers by providing affordable, useful technology to create a positive impact on their lives with more peace of mind, and the lives of their care recipients by helping them stay in their own homes longer.

Theora Care™ is Clairvoyant's premiere range of solutions of SMART TECHNOLOGY designed to reduce caregiver stress while promoting independence for aging in place senior family members with Alzheimer's Disease and other memory care and dementia symptoms. We keep caregivers & loved ones connected.

A stylish wearable for your loved one, connected to the caregiver's smartphone app, provides activity, status and wandering alerts with automatic audio communication to your loved one, no button pushing required.


GPS Locator Service
With a simple drag-and-drop on your smartphone, caregivers create virtual safety nets to help protect loved ones. If a loved one should stray outside of a Safe Zone , caregivers are notified before family members can get far too away.

The Theora Link Smartphone App is an easy to use app that allows care partners to be in touch with their care recipients wearing Theora Connect via cellular, two-way audio, and GPS locator, with caregiver text notifications for status.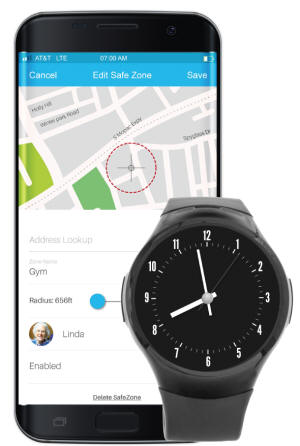 Combined with the FREE Theora Link Smartphone App for caregivers it provides a complete remote monitoring solution to keep caregivers and their loved ones connected.

Quik Connect™ , the two-way voice feature, enables caregivers to communicate through the wearable's speaker, with no button pushing required by loved ones. Should a loved one become confused, lost and unable to answer the built-in phone, caregivers can still reach them via the two-way audio to reassure them that help is on the way.



All this at an affordable price!!



The wearable wristwatch is $247 plus a one-time $40 installation fee. You then only pay a $29.97 monthly service fee for the cellular service that is pre-activated and you never have to deal with the cell phone company. We take care of everything!

Key Features & Benefits
Enhances caregivers' peace of mind, while keeping loved ones active and independent.
GPS locator informs you of your loved one's whereabouts.
Safe Zone feature lets you set up specific monitoring zones, and notifies caregivers if a loved one has left the safe area. You can pre-set Safe Zones for frequently used locations such as home, a park, even the grocery store, or easily add safe zones on the fly via an easy drag and drop interface.
Quik Connect 2-way voice feature requires no button pushing by care recipient to hear caregiver's familiar voice.
Scalable continuum of care – starts with one Theora Care product, and add additional monitoring solutions when needed.
Everything you need to get started is included with Theora Care solutions, even the Theora Connect wearable's cellular service is pre-activated by the Theora Care Support Team. Our solutions are simple to set-up, and our team is here for questions, should need us.
All Theora Care products can help support persons thriving in place, and are also a great solution for home care and residential care for people with memory loss or the following conditions:
Alzheimer's and Dementia
Autism
Parkinson's
Down Syndrome
Stroke
Post-traumatic Stress Disorder (PTSD)
Any other reasons caregivers may have for needing help by keeping an extra set of eyes on their loved ones.

About Clairvoyant Networks

Makers of TheoraCare
We have been involved in the development and deployment of many high profile mission critical systems commonly used in everyday life for healthcare, public safety, military, industrial, oil and gas, manufacturing and retail where location and condition tracking is crucial for lives and businesses.
Our engineers on average have over 20+ years of experience of scalable, mission critical enterprise connectivity. Clairvoyant's cloud applications and platform leverage the Internet of Things (IoT) with the precision of low frequency Ultra Wideband (UWB) to provide visibility into real-time and historical analytics to proactively identify and rapidly resolve issues that impact your business.
Clairvoyant Networks has offices in Austin, Texas, and Research Triangle Park, North Carolina.
Contact Us!
For more information regarding Theora Care App for Caregivers & Elderly Care please call 512-371-6164 or visit our company website . Theora Care by Clairvoyant Networks, LLC.
Theora Care by Clairvoyant Networks, LLC

P.O. Box 16224 | Austin, TX 78716
Tel: 512-371-6164