What is Geriatric Care Management?
Geriatric care management (also known as "elder care management", "aging life care professionals" and "professional care management") is the process of planning and coordinating care of the elderly and others with physical and/or mental impairments to meet their long term care needs, improve their quality of life, and maintain their independence for as long as possible. It entails working with persons of old age and their families in managing, rendering and referring various types of health and social care services.
Find a Texas Geriatric Care Manager serving the
following cities and their surrounding areas:
Austin, Baytown, Bellaire, Cedar Park, Cinco Ranch
Conroe, Dallas, Dripping Springs, Fort Worth
Georgetown, Houston, Katy, Kingwood, Pasadena
Pearland, Round Rock, San Antonio, Spring
Sugar Land, Tomball
Geriatric care managers accomplish this by combining a working knowledge of health and psychology, human development, family dynamics, public and private resources and funding sources, while advocating for their clients throughout the continuum of care. For example, they may assist families of older adults and others with chronic needs such as those suffering from Alzheimer's disease or other dementia.
Geriatric care managers typically have prior training in nursing, social work, gerontology or other health service areas. They are expected to have extensive knowledge about the costs, quality, and availability of services in their communities. In some countries and jurisdictions, they may obtain certification from various professional associations, such as the National Association of Professional Geriatric Care Managers in the United States.

Professional care managers help individuals, families and other caregivers adjust and cope with the challenges of aging or disability by:
Conducting care-planning assessments to identify needs, problems and eligibility for assistance;

Screening, arranging, and monitoring in-home help and other services;

Reviewing financial, legal, or medical issues;

Offering referrals to specialists to avoid future problems and to conserve assets;

Providing crisis intervention;

Acting as a liaison to families at a distance;

Making sure things are going well and alerting families of problems;

Assisting with moving their clients to or from a retirement complex, assisted living facility, rehabilitation facility or nursing home;

Providing client and family education and advocacy;

Offering counseling and support.
Depending on the country and health care organization, professional fees for the services of geriatric care managers may be billed privately on a fee-for-service basis. In the United States, they are not covered by Medicaid, Medicare nor by most private health insurance policies. However, clients may be able to bill some services to long term care insurance, depending on the history of the individual case.
What Are Aging Life Care Professionals?
An Aging Life Care Professional, also known as a geriatric care manager, is a health and human services specialist who acts as a guide and advocate for families who are caring for older relatives or disabled adults.
Aging Life Care Professionals assists clients in attaining their maximum functional potential. They are educated and experienced in any of several fields related to aging life care / care management, including, but not limited to nursing, gerontology, social work, or psychology, with a specialized focus on issues related to aging and elder care.

Their guidance leads families to the actions and decisions that ensure quality care and an optimal life for those they love, thus reducing worry, stress and time off of work for family caregivers through:
Assessment and monitoring

Planning and problem-solving

Education and advocacy

Family caregiver coaching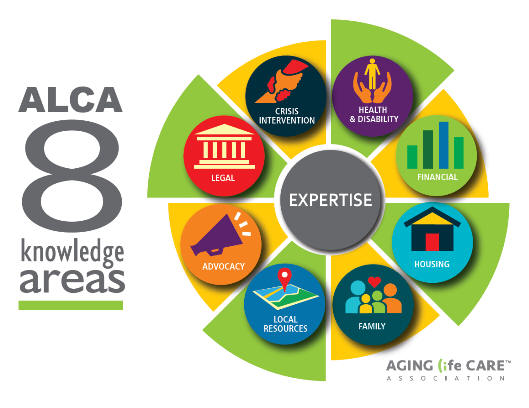 Find a Texas Geriatric Care Manager


Hiring a care manager should be no different than hiring an attorney to help with legal problems or a CPA to help with tax problems.
Most people don't attempt to solve legal problems on their own. And the use of professional tax advice can be an invaluable investment.
The same is true of using a care manager.
Unfortunately there are too few care managers and the public is so poorly informed about the services of a care manager that help that could be provided goes lacking.

The irony of not using a care manager is that most families, given the opportunity to use the care manager, think they can do it themselves and will not pay the money. Yet the services of a care manager will probably save them considerably more money then do-it-yourself. The cost of the care manager might be only a fraction of the savings the care manager could produce. Care manager services can also greatly reduce family and caregiver stress and help eliminate family disputes and disagreements.

Below is a partial list of services provided by geriatric care managers:
Assess the level and type of care needed and develop a care plan

Take steps to start the care plan and keep it functioning

Make sure care is received in a safe and disability friendly environment

Resolve family conflicts and other family issues relating to long term care

Become an advocate for the care recipient and the family caregiver

Manage care for a loved one for out-of-town families

Conduct ongoing assessments to monitor and implement changes in care

Oversee and direct care provided at home

Coordinate the efforts of key support systems

Provide personal counseling

Help with Medicaid qualification and application

Arrange for services of legal and financial advisors

Manage a conservatorship for a care recipient

Provide assistance with placement in assisted living facilities or nursing homes

Monitor the care of a family member in a nursing home or in assisted living

Assist with the monitoring of medications

Find appropriate solutions to avoid a crisis

Coordinate medical appointments and medical information

Provide transportation to medical appointments

Assist families in positive decision making

Develop long range plans for older loved ones not now needing care