Aging Life Care™, also known as geriatric care management, is a holistic, client-centered approach to caring for older adults or others facing ongoing health challenges.
It is imperative to have eyes and ears available locally. This is not a process that can be managed long-distance, even as in-touch as we are with cell phones, text messaging and video conferences.
A geriatric care manager, usually a licensed nurse or social worker who specializes in geriatrics, is a sort of "professional relative" who can help you and your family to identify needs and find ways to meet your needs.
Geriatric care management is the process of planning and coordinating care of the elderly and others with physical and/or mental impairments to meet their long term care needs, improve their quality of life, and maintain their independence for as long as possible.
You may need an Aging Life Care Professional if the person you are caring for:
has multiple medical or psychological issues

is unable to live safely in their current environment

is not pleased with current care providers and requires advocacy

is confused about their own financial and/or legal situation

has limited or no family support
Or if your family:
has just become involved with helping the individual and needs direction about available services

is either "burned out" or confused about care solutions

has limited time and/or expertise in dealing with the individual's chronic care needs and does not live close by

is at odds regarding care decisions

needs education and/or direction in dealing with behaviors associated with dementia
Their guidance leads families to the actions and decisions that ensure quality care and an optimal life for those they love, thus reducing worry, stress and time off of work for family caregivers through:
Assessment and monitoring

Planning and problem-solving

Education and advocacy

Family caregiver coaching
Hiring a care manager should be no different than hiring an attorney to help with legal problems or a CPA to help with tax problems.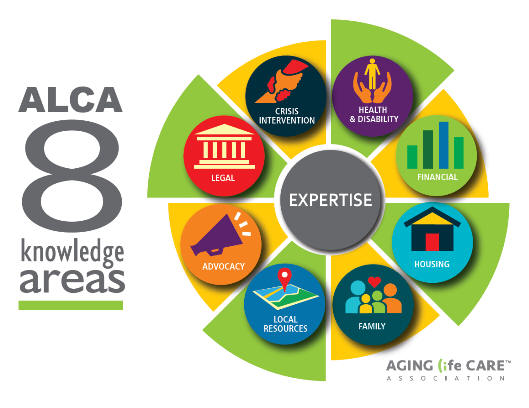 Below is a partial list of services provided by geriatric care managers:
Assess the level and type of care needed and develop a care plan

Take steps to start the care plan and keep it functioning

Make sure care is received in a safe and disability friendly environment

Resolve family conflicts and other family issues relating to long term care

Become an advocate for the care recipient and the family caregiver

Manage care for a loved one for out-of-town families

Conduct ongoing assessments to monitor and implement changes in care

Oversee and direct care provided at home

Coordinate the efforts of key support systems

Provide personal counseling

Help with Medicaid qualification and application

Arrange for services of legal and financial advisors

Manage a conservatorship for a care recipient

Provide assistance with placement in assisted living facilities or nursing homes

Monitor the care of a family member in a nursing home or in assisted living

Assist with the monitoring of medications

Find appropriate solutions to avoid a crisis

Coordinate medical appointments and medical information

Provide transportation to medical appointments

Assist families in positive decision making

Develop long range plans for older loved ones not now needing care