When travelling with your pet(s), there may be animal health requirements specific for that destination. As soon as you know your travel details, contact your local veterinarian to assist with the pet travel process. Factors to consider may include meeting time frames for obtaining a health certificate, updating vaccinations, diagnostic testing, or administration of medications/ treatments. Visit: US Department of Agriculture Pet Travel Website.

Travel by Air
When traveling by air with your dog/cat - PREPARE - contact the country where you will be traveling at least 3 months prior to find out rules governing that country. Ensure that you are able to meet these requirements and specifications. Pay attention to detail: ensure that your vet's full name and #'s are on each document and that they also add your pet's microchip type and number.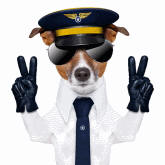 If you decide to ship your pet by air, make reservations and arrangements ahead of time regarding delivery to and pickup from the airports.

Carefully schedule boarding and shipping arrangements for your pet to assure that the pet is well cared for until you are able to receive it at your destination. Boarding may be necessary. Follow airline instructions. Check the airline's requirements to see if your pet can travel in a carrier that can be kept under a seat in the cabin or must travel by air freight.

Feed the pet no less than five or six hours before flight time. Give the pet a drink of water no less than two hours before flight. Arrive 45 minutes in advance if the pet is accompanying you. If shipping the pet, get to the flight terminal two hours in advance of your flight. Be certain that names, addresses, and telephone numbers of the persons responsible for the pet at origination and destination are clearly marked on the container and on the pet's identification tag. Label your pet's flight kennel with the same information.

Add

"Live Animal"

in big letters and information about any special care requirements. Notify the person receiving the pet that it is on the way. Give them the flight and waybill number. Pets can usually be picked up within 90 minutes of flight arrival. The air waybill number is useful when inquiring.
Travel By Car


If your dog or cat is not used to traveling by car, make short trips with the pet a week or two in advance of the trip to accustom it to motion and to teach it how to behave. Dogs should be taught to lie quietly, keep their heads inside, and not annoy the driver or passengers. Don't let your dog stick his head in the wind. It can irritate eyes and cause problems.



Cats are often frightened by car travel, but some cats adjust quickly.

Some persons allow the cat to find its own place in the car; others feel it is best to confine a cat to its carrier. Folding kennels or crates especially designed for station wagons can be most useful for dogs and cats.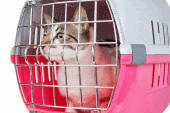 Accustom your pet to being on a leash and harness. Always use the leash when traveling. Even better is a pet harness (available at most pet stores) that connects to the car's seatbelt; it allows the pet some movement while keeping it safely restrained. Your pets can bolt into traffic or become lost in a strange place if not properly restrained.

If stopping overnight check in advance to find a motel that will permit your pet to spend the night. Be sure that your pet is properly tagged and its rabies tag firmly attached. Pet travel kit should include: pet food, food and water dishes, can opener (if needed), a few treats, a favorite toy, a blanket, comb or brush.

Also, to be on the safe side: a sedative (if prescribed by your veterinarian), paper towels, spray room deodorant if you will be staying overnight at a hotel or motel, a scooper and plastic bag to clean up after your pet. If you carefully plan your vacation with your pet, you may make a smooth transition from your old to new destination But be prepared for the unexpected; it can and probably will happen.

A few states have border inspections of all animals being transported; others have random inspection by highway patrol officers. State agriculture representatives are usually present at airports to inspect pets arriving by air.


Travel By RV

A lot of RVer's take their dogs, cats and other household pets on the road as many as two or three dogs and/or cats at a time. Most, but not all, RV parks and government campgrounds accept dogs and cats. Don't be surprised, however, if there is an extra pet charge. You may even be assigned to an area of the campground designated for pet owners. Some are now enforcing breed restrictions, specifically on aggressive types.
The campground or RV park will ask you to clean up after your pet
, keep it on a leash, and not allow it to disturb your neighbors. RV pet owners who think these rules do not apply to them are the reason some RV parks and campgrounds now refuse to allow pets, and some, may even ask you to leave with a 'no refund' policy.


Some dogs and cats, like people, readily adapt and even look forward to RV travel while others have difficulty adjusting. Keep in mind though that your pet(s) will be encountering by new sights, sounds and smells. They will be in close contact with a variety of different people and surroundings. This can be stressful for some dogs and may lead to barking and unpredictable behavior.
Be prepared in case your dog or cat gets away from you. Be sure you your pet has an identification collar on it. Include your RV's make and license number as well as your RV's cellular phone number.

Provide a protective travel case for your pets.

It will prevent them from becoming flying missiles when the brakes are suddenly applied. It will also keep them from jumping on or otherwise interfering with the driver. The travel case can double as a familiar and secure place for your pet to sleep.

You'll want to also carry a valid rabies vaccination certificate.

Many campgrounds and some RV parks require them. RVer's traveling to and from Canada and Mexico are required to have a valid veterinarian health certificate, including a proof of rabies vaccination.