Doctors and psychologists think that hoarding could be a sign that someone has dementia, other cognitive disorders, or a mental illness like OCD, depression, or anxiety. Other triggers include living alone for long periods of time without social interaction, lack of cognitive stimulation, or a traumatic event.
How a Move Manager Help Hoarders

Senior Move Managers can advise you to employ the following tips:
Approach the situation without judgment.
Be honest with the individual as to how long the process may take.
Start with small tasks or items and work your way up through the de-cluttering process.
Group similar tasks or items together.
Consistently praise the individual for the progress made in the decluttering process.
Donít hesitate to remove an item once a hoarder has agreed to its disposal.
Contact a professional if you feel as though the task is too great or if you donít feel as though you can be consistent with the time commitment.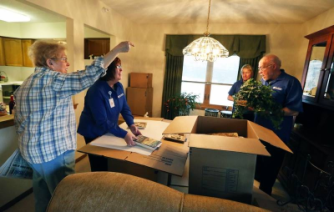 Senior Move Managers not only help coordinate relocation, but are also responsible for assisting with the physical and emotional needs of clients as they mobilize their memories and belongings in transition to a new chapter in life.
These transitions can be daunting in the beginning, but with the help of an experienced Senior Move Manager the process of transitioning to a new home or environment can be exciting and restoring.
The move management process brings about wonderful memories and relief as things become carefully organized and tidy.
Hoarding behavior can occur at any age, but it's particularly common and problematic for seniors. Many aging seniors who hoard already have a history of hoarding behavior. The behavior worsens as hoarding behavior becomes a way to hold onto the past or maintain a sense of control.
Most often, seniors are embarrassed or fearful to allow people into their home due to a fear of being judged for hoarding. This fear in turn results in seniors avoiding many social interactions that involve their homes and in ultimately a greater degree
of isolation from friends and family.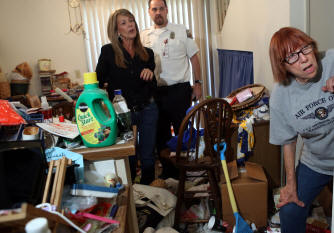 When Hoarding Becomes a Safety Issue
Hoarding can stress existing chronic conditions due to the amounts of dust and potential amount of mold that is accumulated on or between hoarded items.
Navigating the items accumulated through hoarding proves to be a very real concern for all people involved with a hoarding environment, but the risk of falling while navigating the collections of items proves to be far more significant for seniors in cases of decreased mobility or handicap.
Hoarders can be a difficult issue to approach, but with the help and insight of a Senior Move Manager the process can be relatively simple. In some cases, hoarders can be proud of the items that they have collected or embarrassed. There are even cases where the hoarding does not occur intentionally. Regardless of the type of hoarder, it is very important to put the best interests of the senior first.
Related Articles: