What is a Medical Alert System?
A medical alert system (also referred to as device) and often as a personal emergency response system (PERS), medical emergency response system (MERS) or fall monitor — can provide increased independence for our loved ones and peace of mind for us as family caregivers.
A medical alarm is an alarm system designed to signal the presence of a hazard requiring urgent attention and to summon emergency medical personnel. Other terms for a medical alarm are Personal Emergency Response System (PERS) or medical alert.
Don't wait for your parents to fall or have a health crisis to discuss their safety. A home medical alert device offers the comfort of knowing you can remain in your home feeling safe, secure and comfortable.
One in three people over 65 will have a major fall each year, with that number increasing to one in two by the time a senior reaches 80. Seniors with alert systems have fewer hospital admissions and shorter stays, meaning a better quality of life.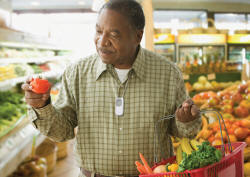 Medical Alert Devices with Fall Detection
Automatic fall detection, or Automated Fall Detection, is typically built into the medical alert pendant that may also be worn on your waist, depending on your system. They can be worn while relaxing on the couch or even sleeping. Get peace of mind with our in-home fall detection devices. Advanced motion sensors signal for help after a fall, even if you can't press your button.
Unfortunately, Medicare Part B generally doesn't cover medical alert systems. But some Medicare health plans, such as certain Medicare Advantage plans, might cover them. Medicare Advantage plans may provide medical alert (emergency response) systems for primarily health-related issues..
However, you should check with your insurance provider to see if they will cover your medical alert system. Some states have programs that will help Medicare beneficiaries, who meet certain criteria, pay for the alert systems. These programs are usually accessed through the local Texas Area Agency on Aging.
Services are provided through an electronic monitoring system that is used by functionally impaired adults who live alone or who are socially isolated in the community.
In an emergency, the client can press a call button to signal for help. The electronic monitoring system helps to ensure that the appropriate person or service agency responds to an alarm call. Financial eligibility is determined by the Texas Department of Aging and Disability Services.
The following video "How to talk to your elderly parent about getting a medical alert device" is provided compliments of ConsumerAffairs.com