Find Assisted Living / Memory Care:


What is Assisted Living / Memory Care?
Alzheimer's Texas Caregiver Support Group Locations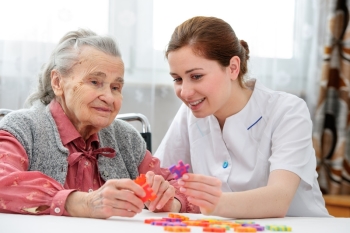 Amarillo | Austin | Bee Cave | Bellville | Cedar Park | Conroe
Frisco | Georgetown | Houston | Irving | Katy | League City
Leander | Mansfield | Midland | Plano | Richmond
Round Rock | San Angelo | Schertz
Two of the fastest-growing types of residential senior care are assisted living and memory care. Assisted living and memory care are similar types of senior care but with key differences.
What is Assisted Living?
Because there is no nationwide definition for assisted living (although it is regulated in all 50 states), senior facilities that call themselves assisted living communities can offer differing levels of care. They offer a more cost effective, residential approach to delivering many of the same services available in skilled nursing, either by employing home health agencies or personal care staff.
Residents have as much independence as they want with the knowledge that personal care and support services are available if they need them. Assisted living communities are designed to provide residents with assistance with basic ADLs (activities of daily living) such as bathing, grooming, dressing, and more. Some states also allow assisted living to offer medication assistance and/or reminders. Assisted living communities differ from nursing homes in that they don't offer complex medical services.
Assisted living residences provide help with activities of daily living including basic health services, recreational and social activities. Cost is usually made up of monthly rent with additional fees based on the level of attention the resident requires. Although more and more assisted living communities are offering "All Inclusive" rates. The All Inclusive model is preferred for its simplicity and for the predictability of cost month to month. However, it may not always be the most economical approach to paying for assisted living care.
Assisted living communities, all-inclusive or not, should include, at a minimum, clean, well-cared-for housing and grounds for residents to enjoy. All-inclusive assisted living communities should take it a step further by also including an apartment with options to furnish it yourself or a fully furnished apartment with everything your loved one needs. They should also be operated by highly qualified experts, three daily chef-prepared meals and snacks and the option to work with special dietary needs. Lastly, they should offer weekly housekeeping, laundry and ongoing facility maintenance.
Both assisted living and memory care are residences that offer 24-hr personal care assistance as well as meals, social activities and other amenities. However, memory care is intended only for persons with dementia, usually related to Alzheimer's Disease but also dementia from Parkinson's, Huntington's and most other forms of dementia.
There are several differences between assisted living and memory care. Typically, the staff-to-resident ratio in memory care is lower. Security in memory care is increased; external access is restricted to prevent wandering. Different types of recreational activities are organized with fewer offsite outings. Consequently, memory care is more expensive than assisted living by approximately 25%.
Some memory care facilities have programs that are designed to help reduce the symptoms of cognitive disorders and slow the progress of Alzheimer's and dementia. Symptoms such as sundowning, when an Alzheimer's patient grows increasingly agitated and aggressive at night, as well as wandering and general aggression can also be relieved or reduced in the right facility with staff trained to handle and defuse these symptoms.
What Does Assisted Living Cost?
In 2017, the national average amount paid is $3,750 / month and different state averages range from $2,600 to $5,750. Patients requiring Alzheimer's or dementia care in memory care homes costs an additional $1,200 / month on average.
Assisted living costs in Texas vary with the residence, apartment size, and types of services needed. The basic rate may cover all services or there may be additional charges for special services. Most assisted living residences charge on a month-to-month lease arrangement, but a few require long-term arrangements. Assisted living is of often less expensive than home health or nursing home care in the same geographic area.
The average cost of assisted living in Texas as of 2017 is $3,565 / month, which is slightly under the national average of $3,650 / month. Medicare Does NOT Pay for Assisted Living - See Way's to Pay.
Licensing of Texas Assisted Living
Texas assisted living facilities are licensed by the Texas Health and Human Services
based on residents' physical and mental ability to evacuate the facility in an emergency and whether nighttime attendance is necessary. According to the National Survey of Residential Care Facilities, there are over 31,000 assisted living communities nationwide serving almost one million seniors. A relatively new concept twenty-five years ago, today assisted living is the most preferred and fastest growing long-term care option for seniors.

Assisted living, also called residential care, is a type of living arrangement in which personal care services such as meals, housekeeping, transportation, and assistance with activities of daily living are available as needed. But unlike nursing homes, residents in assisted living remain independent, living on their own in a residential setting. Assistance with activities of daily living (ADL's) may include help with bathing, dressing, toileting, diapering, medicating, helping with daily living decisions and moving from one place to another.


There Are Two Types of Assisted Living Licensing
Type A Facility - Provides care for residents who do not require routine attendance during sleeping hours and are capable of following directions in an emergency.

Type B Facility - For residents who require staff assistance to evacuate and who are not capable of following directions in an emergency and require nighttime attendance.
Apartment Sizes and Services


Assisted living residents usually live in their own semi-private or private apartments, which include a furnished or unfurnished bedroom, kitchen area, and bathroom. Various types of apartments are available such as private studio apartments, one-bedroom private apartments, one-bedroom shared apartments, and dormitory-style bedroom arrangements.

Services can include:
Assistance with daily living activities ADL's (bathing, dressing, eating, toileting, etc.)
Central dining programs that include three meals a day
Educational activities
Emergency call systems in private and common areas
Exercise activities
Health services and medication administration
Housekeeping and maintenance
Organized recreational activities
Personal and/or nonpersonal laundry services
Social services and religious activities
Transp

ortation arrangements

Wellness programs
24-hour security
The majority of assisted living facilities also contract with home health agencies to provide skilled nursing care and with hospice providers for hospice services. While 86.2% of assisted living residents today pay for long-term care from their personal financial resources, 41 states offer "home and community-based waivers" that allow low-income residents to live in assisted living. More seniors are purchasing long-term care insurance to help plan for and finance their long-term care needs.
What is Memory Care?
Although assisted living communities may have memory care on the premises, the two types of care are not synonymous. Memory care is a distinct form of long-term skilled nursing that specifically caters to patients with Alzheimer's disease, dementia and other types of memory problems.
A memory care communities offers an individualized approach to dementia care that caters to the specific needs of each resident – sometimes within its own facility but often as part of a larger community setting – and one that provides a safe, structured environment staffed by those specifically trained in memory impairment.
Memory care communities offer residents help with bathing, grooming, and other daily tasks, as well as secured areas that allow safe movement without the risk of wandering off, and activity areas that are purposefully calming and uncluttered.
What Does Memory Care Cost?
Because these facilities provide such a broad range of services, they can be quite expensive compared to general assisted living facilities although your costs can vary depending on where you live and the services offered.
According to Genworth.com the average cost for memory care in Texas is as follows:
Average Monthly: $4,520
Monthly Minimum: $1,950
Monthly Maximum: $6,300
Related Articles: