Ways to Pay for Assisted Living
Private Pay - LTC Insurance - VA Benefits
Medicare Does NOT Pay for Memory Care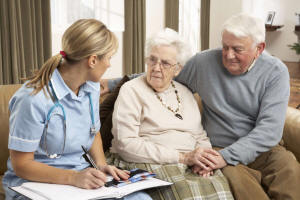 Many families are finding out that assisted living care is not cheap. The average cost in Texas in 2017 was $3,565 / month (private pay) which is slightly under the national average of $3,650 / month.

The areas of Texas with the most expensive assisted living include Amarillo, Austin, Odessa, Victoria and San Antonio, where the monthly cost averages between $4,000 - $4,600.

For average Americans, assisted living fees are most frequently paid out-of-pocket. Families typically use a combination of Social Security, Veterans and other pensions as well as their savings.

Another common approach is to use their home's value either through a rental, a sale or a reverse mortgage to pay for assisted living (though a reverse mortgage will require one spouse to remain in the home).


Medicare DOES NOT pay for assisted living

, room and board, or personal care.

However, medical expenses incurred at an assisted living residence may be covered by Medicare just as they would if the medical procedures occurred in a doctor's office, hospital or at one's home.

Medicaid can be used to pay for

long-term nursing home care

in all states. Many states also allow their residents to use Medicaid waivers to pay for assisted living or in-home care if the services can be obtained at a lower cost. Each state has individual rules, regulations and eligibility requirements. Historically, Medicaid does not pay for assisted living facilities.
TAKING OUT A REVERSE MORTGAGE - Many seniors find that a reverse mortgage can help ease the financial burden of assisted living costs. This is more frequently the case when one spouse needs assisted living or nursing home care while the other spouse can remain in the home. The emotional stress alone can be a challenge in these cases, so adding financial strains into the mix can further complicate life and prevent a caregiver from focusing on what's really important – taking care of their loved one.
VA BENEFITS - The Department of Veterans Affairs, or VA, covers assisted living care for veterans and spouses of veterans who have served at least 90 days on active duty and at least one day during wartime. Applicants must meet a medical qualification test, but their conditions don't need to be related to military service. Called the Non-Service Connected Improved Pension Benefit with Aid and Attendance, or "aid and attendance" for short, this program pays a maximum benefit of $2,085 a month for married veterans, $1,759 for single veterans and $1,130 for a surviving spouse.

The VA's income limit for pension benefits — $21,107 a year for a veteran with no dependents who needs aid and attendance — is offset by the cost of out-of-pocket medical expenses, which may include assisted living care. So if your income is $25,000 and your medical expenses — including assisted living care — are $10,000, the VA counts only $15,000 worth of income toward eligibility.
LONG-TERM CARE INSURANCE - A small number of families are fortunate enough to have long term care insurance, perhaps 5% of American seniors. These individuals use those financial benefits to help with the cost of assisted living.

Related Articles: