They sound similar—but they provide very different services. Home health and non medical in-home care can be quite different in terms of the help provided, the costs (home health aide services up 6.17% to $21.50/hour & homemaker services up 4.75% to $21/hour) resources, and other factors that could have an effect on which one you choose.
Here's an overview about the differences between the two:
What is Home Health?
Home health care is medical care provided in the home by a nurse, physical therapist, or other licensed medical professional. Usually, the person providing the care can only provide what's been prescribed by a doctor.
These types of services usually encompass occupational therapy; wound care; pain management; IV therapy and injections; or mobility training for those who have had their mobility impaired.
Home health care is generally covered by Medicare in the state of Texas and in other states. However, it won't cover all aspects of home health care, such as medications administered in the home, or anything that falls under non-medical in-home care—sometimes there is an overlap in services.
It also won't pay for full-time care; only home health care delivered on a part-time basis qualifies for Medicare coverage. The program covers up to 35 hours per week of care.
There are other limitations to home health care coverage as well. For instance, the patient must be homebound—although they can be mobile using a wheelchair or other mobility device. The home health care agency must be certified and approved by Medicare, and all services must be prescribed by a doctor under a "plan of care."
In addition, while Medicare will cover an unlimited number of visits as infrequently as every two months, if you or your loved one needs daily care, Medicare will only cover it if there is a predictable end in sight. If the patient's condition is chronic and long-lasting, and if care is needed on an ongoing, indefinite basis, it may not be covered.
What is Non Medical In-Home Care? (Custodial Care)
Custodial care is nonmedical assistance -- either at home or in a nursing or assisted-living facility -- with the activities of daily life (such as bathing, eating, dressing, using the toilet) for someone who's unable to fully perform those activities without help.
Non medical in home care (aka custodial care) does not involve medical care; it is usually provided by professional caregivers without a medical license, although it can also be provided by family members. This type of care IS NOT covered by Medicare.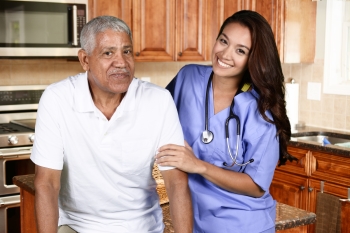 Find Texas Non Medical In-Home Care Providers
Non medical in-home care usually refers to in-home assistance to assist with "activities of daily living"—including bathing, dressing, light housekeeping, cooking meals, using the restroom, transferring from a bed to a wheelchair or other moves; management of medication, transportation, accompanying on walks and companionship.
Some agencies and professionals offer both types of services, and there may be some instances where a single person might provide both medical care in the home and assistance with daily activities. However, Medicare does not cover non-medical in-home care, even when it is provided by the same agency or the same individual who provides the home health care.
Most home health care agencies and providers of non-medical in-home care are referred by hospitals and doctors. However, you can hire one on your own as well—be sure to do your research and make sure the agency is Medicare-approved.
Related Articles: