Long term care is a type of personal care service you may need if you become unable to care for yourself because of a prolonged physical illness, a disability, or a cognitive impairment, such as Alzheimer's disease.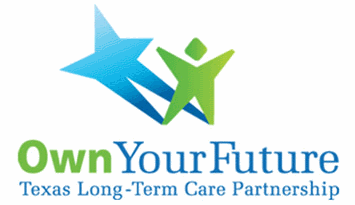 Long term care is different from traditional medical care that attempts to treat or cure illnesses. Long-term care helps you maintain your current lifestyle, but it may not improve or correct your medical problems. Care may be provided at home or in a hospice, adult day care center, nursing home, or assisted living facility.
Texas Long-Term Care Partnership Program
Texas created the Long Term Care Partnership Program as an incentive for Texans to plan for their long-term care needs. The partnership is a joint effort between private insurers and the state. Insurers must follow state and federal guidelines to sell partnership policies. Partnership policies have an asset disregard benefit, inflation protection, and tax qualification benefits.
A Texas Partnership for Long-Term Care qualified policy provides you, as the purchaser, with the right to apply for Medicaid under modified eligibility rules that include a special feature called an asset disregard. This allows you to keep assets that would otherwise not be allowed if you need to apply, and qualify, for Medicaid in order to receive additional long-term care services. The amount of assets Medicaid will disregard is equal to the amount of the benefits you actually receive under your long term care Partnership qualified policy.

Since these policies must include inflation protection, the amount of the benefits you receive can be higher than the amount of insurance protection you originally purchased. If you have a Partnership-qualified long term care insurance policy and receive $200,000 in benefits, you can apply for Medicaid and, if eligible, retain $200,000 worth of assets over and above the State's Medicaid asset threshold.
In most states the asset threshold is $2,000 for a single person. Asset thresholds for married couples are typically more generous. For more information, contact a Texas Long Term Care Insurance Agent.


Choosing Long-Term Care Insurance in Texas
Consumer Information -
If you are a consumer or caregiver in immediate need of long-term care services, call 2-1-1 or contact a HICAP benefits counselor in your area. If your question is about a Texas long-term care insurance policy you have or are buying, call the TDI Consumer Help Line between 8 a.m. and 5 p.m., Central time, Monday-Friday or visit their website below. 1-800-252-3439 or 512-463-6515 if living in Austin. Source: www.tdi.texas.gov

Related Articles: