Elder Options of Texas is an online senior care and housing directory for the state of Texas. Our goal is to provide a wide-range of useful and informative Texas services and resources that are accessible and of interest to seniors, baby boomers, children with aging parents, caregivers, and health care professionals. Elder Options of Texas was founded by Cheryl Culbertson.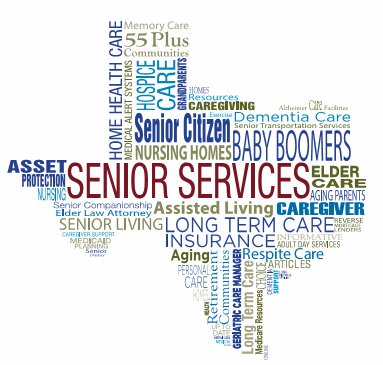 ALL companies featured on our site are FEE BASED (advertiser's) with the EXCEPTION of the following state agencies and non-profits.
Elder Options of Texas was originally created to provide "options" throughout Texas for our "elderly". However, over time, it has become much more than a resource site for the elderly. It has become the site accessed by children with aging parents, seniors and caregivers looking for Texas senior services and housing options for themselves, and / or an elderly loved one. Advertise With Us!!
Our Mission
Our mission is to provide the most comprehensive directory for finding trusted professionals, helpful resources and senior services for our Texas aging population.
Finding Services Within Our Site
Listed below are just a few of the type of Texas products, services and housing options featured on our site.
You can quickly find the Texas senior care, products or housing options you are looking for using the powerful Google Custom Site Search Engine above (also featured on every page of our site) as well as by any of the (7) seven Texas regions.
Our Social Media Presence

<![if !vml]>



<![endif]>
Our social media sites, featured above, accounts for over 6,500 cumulative followers...and growing daily! This does not take to account our other site, TexasBabyBoomers.com and it's Twitter page of followers.
We are proud that our online directory is helping aging Texans, baby boomers and their loved ones find the senior care or senior housing option they are looking for. Spend some time going through our site. We believe you will like what you see!
Advertise With Us!
If you have a senior service company or senior property in Texas, that you would like receive exceptional online exposure resulting in new clients or move-ins, Elder Options of Texas is the site to advertise on!