Elder Options of Texas is a comprehensive online senior care and housing directory for the state of Texas. We also known as a web portal. The term 'portal' is used to describe a website that acts as an entry point or gateway to an array of services or resources.
Our goal is to provide a wide-range of useful and informative Texas services and resources that are accessible and of interest to seniors, baby boomers, children with aging parents, caregivers, and health care professionals. Elder Options of Texas was founded and is owned by Cheryl Culbertson.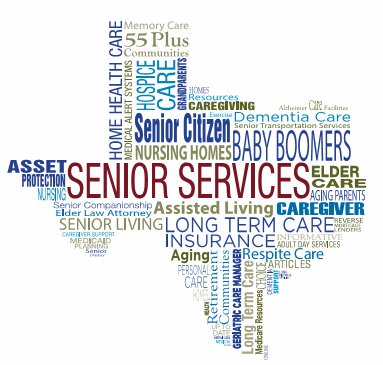 ALL companies featured on our site are FEE BASED (advertiser's) with the EXCEPTION of the following state agencies and non-profits.
Elder Options of Texas was initially created to provide "options" throughout "Texas" for our "elders". Over time, it has become much more than a resourceful site for the elderly, but also useful for baby boomers, caregivers and seniors in need of finding services and information for themselves, and / or an elder loved one.
Our Mission
Our mission is to provide the most comprehensive directory for finding trusted professionals, helpful resources and senior services for our Texas aging population.
Finding Services Within Our Site
Listed below are just a few of the type of Texas products, services and housing options featured on our site.
You can quickly find the Texas senior care, products or housing options you are looking for using the powerful Google Custom Site Search Engine above (also featured on every page of our site) as well as by any of the (7) seven Texas regions.
55 Plus Apartment Communities

Affordable Senior Housing

Aging in Place Services

Alzheimer's Memory Care

Assisted Living Facilities

Caregiver Support Groups

Continuing Care Retirement Communities

Cremation Services / Funeral Planning

Elder Law Attorneys

Geriatric Care Managers

Home Health / Hospice

Home Safety and Renovations

Hospice / End of Life Care

In Home Senior Care

Long Term Care Insurance

Medical Alert Systems

Medicaid Planning Services

Personal Care Homes

Respite Care

Reverse Mortgages

Senior Living

Skilled Nursing Care

Transportation Services

Our Social Media Presence

<![if !vml]>



<![endif]>
Our social media sites, featured above, accounts for over 6,500 cumulative followers...and growing daily! This does not take to account our other site, TexasBabyBoomers.com and it's Twitter page of followers.