Snack Recipes For the Elderly
Easy and Nutritious Snack Ideas
Breakfast | Lunch | Dinner | Smoothies | Soft Food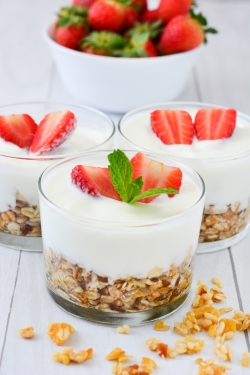 Finding nutritionally-balanced, convenient and healthy snacks for the elderly is a great way to supplement the diets of those whose appetites and health is waning. Many elderly individuals eat inadequate portions at meals, making snacks a significant part of the diet.
The following are some easy and healthy snack recipes for the elderly. If you have a favorite snack recipe to share, please let us know.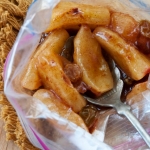 Delicious Baked Apples
1 small apple (Golden Delicious or Granny Smith are my favorite)
1 packet of sweetener (Splenda is my favorite) or a spoonful of sugar
¼ teaspoon cinnamon
¼ teaspoon cornstarch
1 tablespoon water
Small handful of raisins, optional
Peel or don't peel apple, core and slice or dice. Place in freezer-quality plastic zippered bag along with remaining ingredients. Seal bag and shake well to mix ingredients. Reopen bag just a touch to vent. Microwave on High for 2 minutes-- longer if you use a big apple.
Carefully (it will be HOT and steamy) open bag and pour over plain or cinnamon-sugar pita chips, flour tortilla chips, oatmeal or ice cream.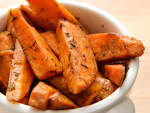 Baked Sweet Potato Fries
Baked sweet potato fries are a healthy swap for potato chips. This vitamin A-rich snack is a healthy favorite. Preheat the oven to 425 degrees Fahrenheit. Cut four sweet potatoes into 1-inch-wide wedges, place flesh-side down on a roasting pan, then brush with a mixture of 2 tablespoons olive oil, 1 1/2 teaspoons chili powder, and 1 teaspoon kosher salt. Cook, turning once, for 20-25 minutes. Remove pan from oven and sprinkle with ½ teaspoon kosher salt.
Banana Oatmeal Walnut Cookies
Three-ingredient "guiltless healthy cookies" that are a great source of heart-healthy whole grains, good fats, and potassium.
Steps:
Combine 2 medium ripe bananas, mashed, 1 cup uncooked quick oats in a bowl, then fold in ¼ cup crushed walnuts. Place tablespoon-sized scoops on a baking sheet and bake for 15 minutes in a 350-degree oven.
Additional Healthy Snack Ideas:
Making wise snack choices helps to ensure that frail older adults meet their nutrient needs. Here are some simple, nutritious snacks that are appropriate for the frail older adult. They are easy to chew and swallow as well as easy to prepare, and they taste good! When planning snacks for the frail older adult, it is important to incorporate a variety of healthy food choices. This ensures that snacks are providing a balance of nutrients.
Deviled eggs: Deviled eggs are a great source of protein. Start by boiling the eggs until hard (ten minutes). Drain the eggs and then cool with cold water or refrigerate them. Place the eggs on a clean cutting board. Remove the shells and slice the eggs in half lengthwise. Remove the yolk with a spoon and place the yolks in a dish. Add mayonnaise to the yolks and stir until moist and creamy. Spoon the yolk mixture into the egg hollows and sprinkle with paprika. Serve chilled.

Cottage cheese with canned fruit: Cottage cheese is a snack that is very soft and easy to eat. It also provides a good source of protein. Canned pears or peaches with light syrup are tasty and give the cottage cheese some extra flavor. Open the canned fruit and drain. Next, slice the fruit into bite-sized pieces and combine with a few tablespoons of cottage cheese. Mix well and serve chilled.

Flavored milk: Flavored milks, such as chocolate or strawberry, provide protein, calcium, vitamin D, and energy and are a quick, easy, and tasty snack. Shelf-stable, single-serving versions are particularly convenient.

Yogurt with fruit: Yogurt is a good snack option for the older adult and provides a source of protein and calcium. Serve half a cup of plain or flavored yogurt topped with fresh berries.

Milk pudding: Pudding is a tasty and convenient snack to keep on hand. Pudding can be bought as shelf-stable, individual servings or as fresh options that require refrigeration. In addition to the commonly available flavors, such as vanilla, chocolate, and butterscotch, traditional favorites of the older adult, rice and tapioca, are available.

Cheese: Cheese is tasty and simple to prepare. Block cheddar, Swiss, and mozzarella cheese are good options, but also try the many varieties of specialty cheeses. Cut the cheese into bite-sized cubes or purchase packaged cheeses that are already cubed.

Ice cream with strawberry drizzle: Ice cream is a delicious treat that most people simply cannot resist. Ice cream comes in a variety of flavors and also in differing fat contents. Premium ice creams are usually higher in fat but also are more flavorful. Try serving puréed strawberries drizzled over ice cream.

Tuna salad: Tuna in a can is inexpensive and simple to prepare. If sodium is an issue, the tuna can be rinsed. For a quick tuna salad, just open the can, drain, rinse, and mix with mayonnaise and seasonings. Tuna salad can be served with soft crackers.
Unhealthy Snacks...
Just as there are plenty of healthy snack ideas for seniors, there are also plenty of unhealthy snack choices. These choices will only cause your loved one to feel more pain and to experience more health issues. Here's what you should stay away from:
Prepackaged snacks, while handy, typically contain large amounts of salt, sugar and synthetic additives, all of which should be avoided.

Snacks that are high in saturated fats and salt should be avoided, as they can lead to or worsen heart conditions.

Pastries and sugary desserts should be avoided since they can lead to or worsen diabetes.