Soft Food Recipes For the Elderly
Easy and Nutritious Soft Food Ideas
Breakfast | Lunch | Dinner | Snacks | Smoothies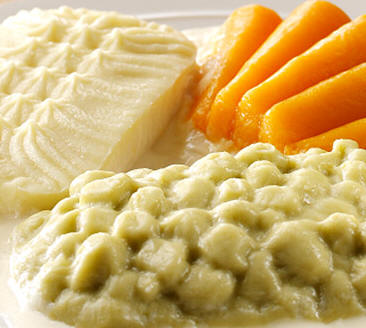 A Mechanical Soft Diet is designed for people who have trouble chewing and swallowing. Chopped, ground and pureed foods are included in this diet, as well as foods that break apart
without a knife.
Soft foods help elderly people who have difficulty chewing or swallowing continue to eat balanced, nutritious meals. The best soft diet foods are typically somewhat soft and moist naturally, but may also be pureed or mashed and have moisture added to make the food easier to swallow.
Basic guidelines for a soft food diet include: At least 5 servings of soft fruit and well cooked vegetables. 2 servings of proteins such as tender meat, poultry or fish (bones removed!).
Vegetarian options: eggs, beans, or lentils. 2 servings of dairy: milk, or calcium fortified soy or rice milk. Bread, cereals, rice, pasta, or potato at each meal. Plenty of fluids. Drink around 8 to 10 cups of fluid per day, most importantly water!
The following are some easy and healthy soft food recipes for the elderly. If you have a favorite soft food recipe to share, please let us know.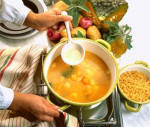 Homemade Ground Beef and Vegetable Soup
1 pound Ground Beef
½ whole Chopped Onion
1 Tablespoon Flour
2 cups Water
1 teaspoon Chili Powder
¼ teaspoons Red Pepper Flakes (optional)
½ teaspoons Italian Seasoning (Double The Amount, If You Want)
¼ teaspoons Celery Seed
½ teaspoons Garlic Powder
Salt And Pepper, to taste
1 can (10 1/2 Oz. Size) Beef Broth
1 can (10 Oz. Size) Tomatoes With Green Chiles, Such As Rotel
1 can (8 Oz. Size) Tomato Sauce
2 cans (15 Oz. Size) Whole New Potatoes, Cut Into Bite Sized Pieces
1 bag Frozen Mixed Vegetables, 12 Ounce Bag
1 cup Elbow Macaroni
In a large soup pot over medium heat, brown ground beef and chopped onion. Once the meat is browned and the onions are softened, drain off grease. Add flour into the pot and stir well until well incorporated.
Add other ingredients except for the macaroni and cook on low to medium heat for 20-25 minutes. Then add 1 cup elbow macaroni and cook for 8-10 more minutes until pasta is done. Adjust the seasoning to whatever suits your taste.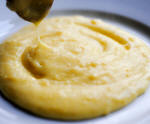 Creamy Polenta
750 ml full-fat milk
1 small clove of garlic, lightly crushed and intact
1 small bay leaf
salt and white pepper
a pinch of nutmeg
75g quick-cook polenta
100ml double cream/heavy cream/ crème fraiche
75g freshly grated Parmesan or Grana Padano cheese (NOT the stuff in a can!)

Bring the milk to the boil and then add in the garlic, bay leaf, salt and pepper and nutmeg. Simmer for five minutes. Use a slotted spoon to remove the bay leaf and garlic. Slowly whisk in the polenta (pour it in in a steady stream, whisk all the time). Cook the polenta on a low heat for 10 minutes, stirring so that it doesn't stick (which it really wants to do!). Add in the cream and cheese, cooking for a further 2-3 minutes. Eat warm with a big spoon. Serve with cornbread or crackers.
Additional Soft Food Suggestions:
Choose soft moist foods. Chop, finely mince, grind, mash or puree foods to a texture you can easily chew.

Soften bread products or crackers in soup, milk or tea; or spread with non-hydrogenated margarine, syrup or honey.

Use milk, cream, or broth to mash vegetables like potatoes, yams, squash or carrots.

Blend banana, melon, or frozen fruit into milkshakes or smoothies.

Use gravy, broth or sauce to moisten meat, poultry or fish.

Use cheese sauce to moisten vegetables, noodles or rice.

Top foods with butter, margarine, oils, salad dressings or sour cream to moisten foods and enhance flavors.