Lunch Recipes For the Elderly
Easy and Nutritious Lunch Ideas
Breakfast | Dinner | Snacks | Smoothies | Soft Food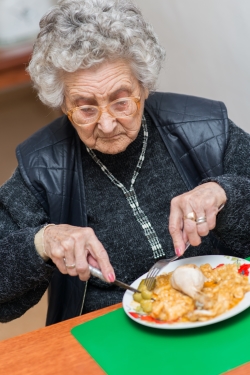 Eating a well-balanced diet is an important part of staying healthy as you age. It can help you maintain a healthy weight, stay energized, and get the nutrients you need. It also lowers your risk of developing chronic health conditions, such as heart disease and diabetes.
To meet your nutritional needs, eat foods that are rich in fiber, vitamins, minerals, and other nutrients. Limit foods that are high in processed sugars, saturated and trans fats, and salt. You may also have to adjust your diet to manage chronic health conditions.
The following are some easy and healthy lunch recipes for the elderly. If you have a favorite dinner recipe to share, please let us know.
Pea and Shell Pasta Salad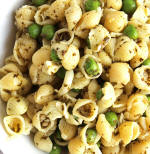 1 16 oz box small pasta shells
¾ jar of Classico traditional basil pesto
1¼ cup shredded mozzarella
1 cup frozen peas (more or less depending on preference)
¼ teaspoon garlic powder
¼ teaspoon garlic salt
3 tablespoons extra virgin olive oil
pepper to taste
Bring a large pot of water to boil. Add pasta, and cook 8-10 minutes until done.
Drain pasta, and add to large mixing bowl. Stir in 3 tablespoons of olive oil. Let cool for 1 hour.
While pasta is cooking, place frozen peas in a strainer and run cool water over to thaw. Set aside on counter.
Once pasta is cooled, add pesto and mix completely. Then add in remaining ingredients. You can add more or less cheese and peas depending on preference. Let sit in fridge overnight, if possible!
Chicken and Broccoli Bake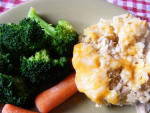 2 2/3 cups Cook and Dice Chicken
2 cups Broccoli, Frozen Cuts
1 tsp Garlic powder
10 3/4 oz Cream of chicken soup
2 cups Cook white rice, Long-Grain
1 cup Cheddar cheese
In a large bowl, mix cooked chicken, broccoli, soup, rice, and garlic powder. Spread in greased baking dish. Top with cheese. Bake at 375F for 25-30 minutes or until heated through.
Freezing Directions:
In a large bowl, mix cooked chicken, broccoli, soup, rice, and garlic powder. Divide into indicated number of greased baking dishes. Top with cheese. Cover tightly with foil. Affix label.
Serving Day Directions
Bake uncovered at 375F for 25-30 minutes or until heated through.
Slow Cooker Red Beans and Rice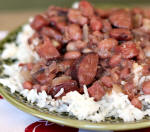 1 pound dried small red beans rinsed and sorted
1 sweet onion diced
4 ribs celery chopped
7 oz. smoked boneless pork chops diced into ½-inch cubes
12 ounces sausage cut in half lengthwise and sliced into ½" thick slices
1 tsp. kosher salt plus more to taste
1/2 tsp. cayenne pepper
1/2 tsp. dried thyme
2 bay leaves
6 cloves garlic minced or crushed
4 c. cooked rice
Place all ingredients except cooked rice in slow cooker. Add about 7 cups of water, enough to cover contents with about an inch of water. Stir, cover, and cook on high 8 hours or low 10 hours. About an hour before serving, use a potato masher to mash at least half of the beans, stir, and cook on high an hour longer. (This step is what gives the creamy texture.) Before serving, taste beans and add additional salt and cayenne to taste. Remove bay leaves, and ladle beans into bowls over cooked rice.
Additional Healthy Lunch Ideas:
Quinoa salad. Sautee pre-chopped stir-fry vegetables (onion, red pepper, mushrooms). Combine with pine nuts or pecans and cooked quinoa. Toss with Italian salad dressing. Eat fresh, warm or cold; keeps well refrigerated. The USDA recommends steaming or saut?ing vegetables in olive oil instead of boiling, which drains the nutrients.

Eggs and red potatoes. Melt a pat of butter in a skillet; chop up potatoes and add to skillet, over a medium heat. Cover skillet for 2 min. Then, pour scrambled eggs over potatoes, add pepper and toss until eggs are hot. Rather than season with salt, which can lead to water retention and high blood pressure, use fresh herbs and spices.

Cottage fries. Slice parboiled red potatoes. Heat extra virgin olive oil in a skillet and cook the potatoes at a medium heat. Top with leftover vegetables and grated sharp cheddar cheese. Cover, let steam and serve.

Southwest omelet. Beat 2 eggs. Put 1 Tbs. olive oil in a skillet. Pour in the egg mixture; add pepper jack cheese chunks and natural salsa or chili sauce. When eggs are firm, fold and serve with sliced avocado. Tip: Chili and spices help boost diminished taste buds.