Breakfast Recipes For the Elderly
Easy and Nutritious Breakfast Ideas
Lunch | Dinner | Snacks | Smoothies | Soft Food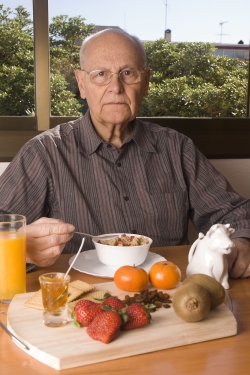 Older adults may have a difficult time consuming adequate nutrition due to decreased absorption efficiency or high cost of healthy foods. Therefore, seniors are at an increased risk for malnutrition, which can decrease their quality of life. Inexpensive, soft, easy-to-prepare breakfast foods are ideal for seniors. Eggs, oatmeal, soft fresh fruits, fresh fruit and smoothies are ideal.
The following are some easy and healthy breakfast recipes for the elderly. If you have a favorite breakfast recipe to share, please let us know.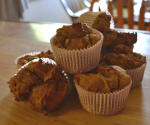 Banana Pumpkin Protein Muffins
Delicious and healthy too! 1/2 cup almond butter, 1/4 cup pumpkin, 1 banana, 1 scoop of vanilla Perfect Fit Protein, 1 egg, 1 egg white, 3 tbsp maple syrup, 1/2 tsp cinnamon, 1/4 tsp nutmeg, 1/2 tsp baking powder, and 1/4 tsp sea salt. Mix all ingredients together. Bake at 350 degrees for 15-18 minutes or until golden brown!
Make-Ahead Breakfast Bites
3 1/2 cups Original Bisquick™ mix
1 cup milk
12 eggs
2/3 cup grated Cheddar cheese
2/3 cup diced ham
1 teaspoon salt
1/4 teaspoon pepper
1/2 tablespoon chopped fresh rosemary leaves, if desired.

Heat oven to 375°F. Spray 12 regular-size muffin cups with cooking spray
In medium bowl, mix Bisquick mix and milk with wooden spoon to form thick dough. Dump out onto floured surface, and use a floured rolling pin to roll it 1/4 inch thick. Cut into rounds with 3- or 4-inch round cutter.
Press the rounds into muffin cups. Sprinkle cheese in each cup, followed by a few cubes of ham. Crack the eggs individually into small bowl, then gently slide 1 egg into each muffin cup. Top with remaining cheese and ham. Sprinkle with salt, pepper and rosemary. Bake 20 to 25 minutes or until egg whites are set. Cool in pan 5 minutes, then lift cups out using knife. Serve immediately. Store leftover egg cups in an airtight container in the fridge up to 3 days or in the freezer up to 1 week. Reheat in the microwave.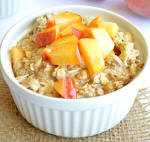 Peach Cobbler Oatmeal
3 1/2 cups water
pinch of salt
2 1/2 cups rolled oats
2 1/4 tsp. cinnamon
pinch of nutmeg
2 large peaches, chopped
3-4 tablespoons light brown sugar*optional
1/4 cup chopped pecans for garnish; if desired
In a large saucepan over medium heat, add water and salt. Bring to a boil. Add oats, cinnamon and nutmeg and stir to combine. Cook for 4 minutes, or until oatmeal thickens. Add peaches and brown sugar and cook one additional minute. Serve immediately and garnish with pecans, if desired.
Wholewheat Sugar Free Banana Pancakes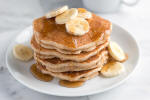 2 very ripe bananas
2 eggs
½ cup of whole-wheat flour
¼ teaspoon of salt
¼ cup of almond milk
½ teaspoon of baking soda
Spray oil
1 cup of fresh fruit, cubed
Honey (optional)
Mix bananas, eggs, flour, salt, milk and baking soda. Blend to a smooth mix. Coat a non-stick pan with oil. Add four tablespoons of pancake mix and cook over medium heat until it's brown on one side. Flip and cook similarly on the other side. Repeat with the rest of the mixture.
Additional Healthy Breakfast Ideas:
Warm oatmeal and berries. Place frozen or fresh berries in a crockpot at a low heat setting. Add a pat of butter and one serving of old-fashioned oats and water. Cover and cook on low, for several hours (or overnight). This will give it the consistency of bread pudding. (The easier option is adding berries to warm oatmeal.)

A hard-boiled egg. Accompany with a side of fresh fruit and a slice of whole-wheat toast.

Yogurt parfait. Mix together yogurt, nuts and fruit. It's a good combo of healthy fat, Vitamin C and carbohydrates.

Power toast. For healthy fat and some protein, spread peanut butter or almond butter on whole-wheat toast; enjoy fresh fruit on the side.

Poached egg. Place egg on top of whole-wheat toast and steamed asparagus. Top with a small amount of butter.