Dinner Recipes For the Elderly
Easy and Nutritious Dinner Ideas
Breakfast | Lunch | Snacks | Smoothies | Soft Food


Healthy eating and regular physical activity are necessary to maintain good health at any age. Almost 90% of Americans over the age of 65 have one or more degenerative disorders such as heart disease, cancer, arthritis, diabetes, macular degeneration, and osteoporosis.
These conditions were once considered inevitable diseases of old age, but now are recognized as life-style diseases. Therefore, changes in habits, including diet, can significantly reduce the risks of developing these diseases as well as prevent.
The following are some easy and healthy dinner recipes for the elderly. If you have a favorite dinner recipe to share, please let us know.
Mixed Veggie Lentil Bake
1 3/4 cups red lentils, rinsed
1 onion, finely chopped
3 cups mixed vegetables
diced 4 cups fresh spinach
400g can diced tomatoes with garlic and herbs
1 cup reduced-salt vegetable stock
1/2 cup grated reduced-fat cheddar
1/2 cup grated parmesan
Preheat oven to 190°C. Place lentils in a saucepan of boiling water and cook for 20–25 minutes. Drain and place into a lightly oiled baking dish.
Meanwhile, spray a large frying pan with oil and cook onion for 3–4 minutes, until softened. Spray pan with a little more oil and add mixed vegies. Cook for 3–4 minutes.
Add vegetables to baking dish with lentils and toss to mix. Stir through spinach, tomatoes and stock. Sprinkle with cheddar and parmesan and bake for 15 minutes, until golden.
Variations: Add lean, cooked bacon or some tuna before baking. This recipe is great for winter vegies like cauliflower or squash.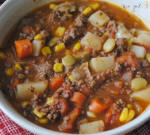 Vegetable Beef Soup
This soup is great and you can add whatever vegetables you want. This is also a great meal to fix if you have elderly parents who live alone and you want to make sure they are eating healthy. You can make it and freeze it in portion sizes. It's easy to stick in the microwave and it ensures they get protein and veggies!!
1 to 1˝ pounds ground beef or venison
1 cup chopped onion
1˝ cup sliced carrots
3-4 cups chopped cabbage
1˝ cups frozen organic corn
2-3 cups cubed potatoes
1 cup frozen baby lima beans
4 cloves garlic, chopped or pressed
1 teaspoon dried oregano
1 teaspoon dried thyme
2 teaspoons dried parsley
2 teaspoons sea salt pepper to taste
4 cups broth (vegetable, chicken, or beef)
7 cups tomato product (diced, whole, strained, etc)
pinch of organic sugar (optional only if your soup tastes bitter or tangy from the tomato product)
Brown ground meat. Drain if needed. Add remainder of ingredients and stir to combine. Bring to a boil, reduce heat, cover, and simmer for about 20 minutes or until potatoes and cabbage are tender. Taste and adjust seasonings if necessary.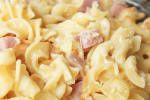 Creamy Ham & Noodle Casserole
2 cups cooked ham, chopped
2 eggs, beaten
1 cup sour cream
1 1/2 tablespoons dried, minced onion
1 teaspoon kosher salt
1 cup shredded Swiss cheese
12 oz egg noodles, cooked and drained

In a large mixing bowl, whisk eggs and sour cream until smooth. Add ham, minced onion, salt, and cheese. Gently fold in egg noodles, turning to coat well. Transfer to a 2 quart casserole dish and bake at 350 for 30 minutes, watch the casserole during the last 10 - you might need to put foil over to prevent the edges from getting too brown.
Additional Healthy Dinner Ideas: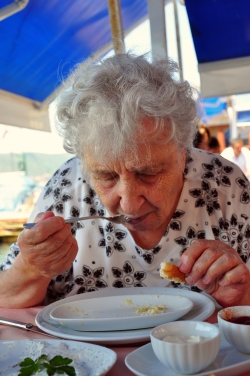 Baked or grilled Alaskan salmon. Top each steak with tomatoes, sweet onion, dried or fresh basil, chopped garlic and 1 Tbs. extra virgin olive oil. Wrap each piece of fish tightly in aluminum foil and place in the oven on a low heat (300 degrees). If the fish is thawed, cook for about 15 minutes. Dinner is ready when the fish is flaky, but still moist.

Lamb and potatoes. (If you can keep some parboiled red potatoes on hand, you can prepare fast and easy meals.) Form ground lamb into small meatballs. Tear fresh basil into slivers, or use a pinch of dried basil. Slice pre-cooked red potatoes into small pieces. Slice a clove of garlic. Warm extra virgin olive oil in a skillet. Sauté? garlic and basil on a medium heat for 5 minutes. Add lamb; brown. Add potatoes; cover for 10 min. Toss ingredients; add a dash of ground pepper. Cook for an additional 5 min.

Shrimp and pasta. Heat a pat of butter and 1 Tbs. olive oil in a saucepan. Add chopped fresh herbs, garlic and a handful of shrimp. Toss and cook until shrimp is done. Place on a bed of pasta and top with chopped fresh tomatoes.

Liver and fennel. Place liver slices in a skillet with extra virgin olive oil. Top with chopped fennel, ted onion and cabbage. Cover and steam until liver is tender. Serve.

Beans and rice. Heat up a can of black, pinto or white beans. Serve with brown rice, oats or barley. You can warm the meal in a crockpot and serve later.

Shrimp and fresh greens. Sautee fresh vegetables in a saucepan (again, you can buy pre-cut veggies), with olive oil. Add cocktail shrimp, which can be bought peeled, cooked and chilled. Serve with a berry vinaigrette salad dressing and lime slices.

Southwest chicken salad. Cook boneless, skinless chicken breast on a medium heat in a skillet with extra virgin olive oil. Add salsa. Shred chicken and reserve in refrigerator to use for wraps, salad or soup.